K-Sim RAS Operator Training Suite
Kongsberg replenishment at sea (ras) equipment offers un-paralleled performance
and system maturity to meet the demanding requirements of naval replenishment
schedules around the world.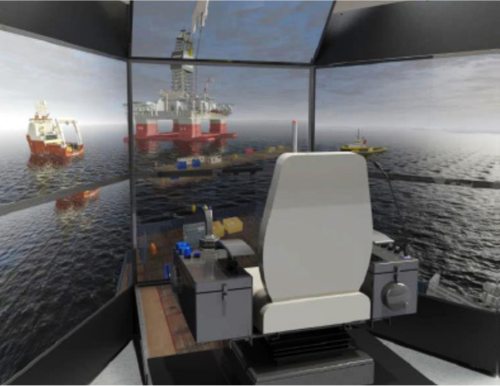 The RAS simulator consists of an operator console with the same operating capability as an onboard console, switching equipment which translates physical operations into appropriate signals, and a digital animation simulator that translates those operations into representative movements projected onto eight monitor screens.
KONGSBERG RAS TRAINING SIMULATOR
Real Life experience - Ability to test RAS scenarios prior to a mission
Quantifiable Training - Learn, practice and record performance/progression of daily procedures in a lowrisk environment
Knowledge Retention - Develop best practice
Cooperation and Competition - Enhance team skills & operational understanding prior to live RAS operations at sea
No risk - Gain vital skills crucial for handling emergencies (not currently practical during onboard training)
Reduced costs and time - Immediate availability,no waiting foran opportunity to use fixed training facilities or the costs to maintain fixed training facilities
The training suite is based on existing Kongsberg K-SIM product range as used for offshore crane operator training. The animation, graphics and control system
simulation would be specially developed to simulate the RAS evolution. The multiscreen presentation fills the peripheral vision of the operator and allows a fully immersive training environment to be created.
A separate instructor station is also provided to input changes to simulate potential issues the operator may need to deal with. It is anticipated that the following training environments would be simulated and selectable by the RAS instructor as inputs to the training scenarios.
Weather conditions, wind and sea-state.
Ship motion displacements.
Vessel separation.
Vessel speed.
Night RAS or daylight operating conditions.
RAS load types and load configurations.
Selectable system fault conditions / fault scenarios developed during RAS operation.
Emergency breakaway / disconnection
The RAS simulator provides realistic system responses to operator inputs and will include simulation of the following RAS operations:
Jackstay, Inhaul and Outhaul winch rotation and tension variation.
Simulated load transit and load control across the span between the vessels.
RAS deck target position setting for automatic control mode.
Padeye motion for raise / lowering of loads.
Moveable Highpoint motion for raise and lowering of loads at receiving vessel.
Jackstay, Inhaul and Outhaul clutch test operation.
Realistic equipment response to fault conditions and full alarm presentation
We pride ourselves in providing the world's leading replenishment at sea equipment optimised to your requirements with the highest availability. We also have the same philosophy about supporting our equipment throughout the world through comprehensive field service and repair capability.
KONGSBERG's reach extends to 34 countries around the world and supports its products through a global Services Network. This means we can rapidly provide field service, training, ILS support and spare parts close to the region of operation.
KONGSBERG has the right people with the right experience, product knowledge,
customer knowledge, and expertise to be a trusted supplier to your business.
FACHT SHEET
Services and support
24/7 Technical support

Our 24/7 technical support team is there to help at any time, day or night, wherever your vessel is.

Conversions, retrofit and refit

We understand the importance of having the right parts, available in the right place, at the right time.

Training

Ensure that your crew is properly and thoroughly trained. This will reduce operational risk, downtime and maximise return on asset investment.