RAS Reception Moveable highpoint
The moveable highpoint provides an attachment point for the tensioned steel wire ropes used during abeam replenishment at sea (RAS) operations. Once attached via the individual couplings, the attachment point may be raised and lowered using the moveable highpoint unit to allow safe and convenient loading and unloading of solid stores on the deck. MHPS suitable for the transfer of 2te or 6te RAS loads are available.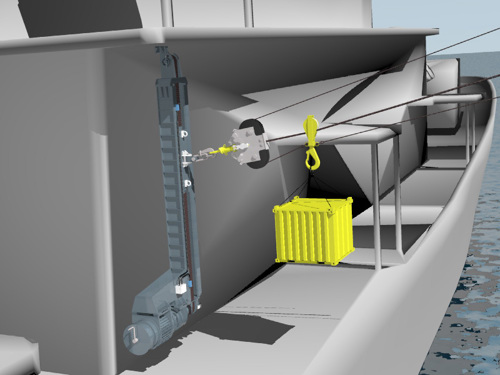 Each Moveable Highpoint is controlled by a bulkhead mounted control panel and is operated from a portable pendant controller which is supplied complete with a six metre long wander lead. The wander lead is plugged into an IP66 bulkhead mounted socket located adjacent to the Moveable Highpoint.
An associated electrical starter panel is also supplied which is mounted in an enclosed compartment position behind each Moveable Highpoint unit or elsewhere within the vessel.
Key features
RAS Reception Systems
Supplied in accordance with NATO ATP-16 inter-operability standard
Suitable for transfer of RAS stores up to 2te capacity
Can also be used to provide a secure liquids transfer connection
Suitable for use in heavy sea states
All electric high performance drives
Transfer with vessel speeds of up to 15knots
Low through life cost
3ph 440V & 690V AC supply options available
HRAS MHP design available for the transfer of solids stores up to 6te.
TYPICAL MHP TECHNICAL DATA
Trolley speed: 20m/min.
Lateral working range: 30° forward/aft.
Electrical Load (2te MHP): 39kVA
Electrical Load (6te MHP): 90kVA
Can be engineered to naval shock ratings
Fail safe design including spring applied and magnetically released
trolley brake
Motor and brake protected by embedded phase temperature sensors and overcurrent devices
Wide reference list across NATO fleet
Structural design fully validated via third party assessment conducted by nominated marine classification society
If required, the moveable highpoint structure can be supplied as part of an integrated form for installation into the ships hull profile. This provides minimum radar cross section properties and avoids projections onto the ships weatherdeck. External weather tight doors can also be supplied for a fully flush profile when stowed. KONGSBERG are happy to work with ship designers and end users to engineer the best solution for the naval platform.
Services and support
24/7 Technical support

Our 24/7 technical support team is there to help at any time, day or night, wherever your vessel is.

Conversions, retrofit and refit

We understand the importance of having the right parts, available in the right place, at the right time.

Training

Ensure that your crew is properly and thoroughly trained. This will reduce operational risk, downtime and maximise return on asset investment.