Astern Reel Refueling at Sea
Kongsberg Maritime produce refueling at sea astern reels to provide an additional dimension to underway replenishment for modern navies. Mounted on the aft of the vessel it gives unsurpassed refueling capability in rough or stormy seas when the abeam method is not possible. By removing the requirement for the vessels to be in close proximity to each other, the refueling process is made safer under these otherwise dangerous conditions.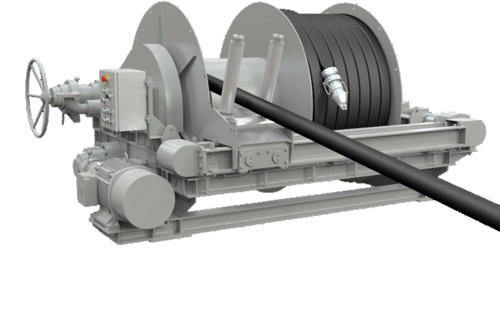 Capable of supporting multiple hoses, the astern reel gives the added benefit of being able to provide a range of different liquid mediums to the reception vessel, whilst being contained in a relatively compact deck machinery envelope.
To enable the layflat hoses to stow correctly, the astern reel assembly is provided with an air pressure driven pig launcher and blow down system. This ensures the hoses are left empty and clean during storage on the drum.
A manually controlled oscillating hose spooling carriage is fitted to ensure that the hoses are paid out and recovered smoothly and without damage. The hose carriage is driven mechanically by a separate motor. Only one of the two hoses may be deployed at a time so the spooling carriage can be used on any of the hoses fitted to the drum. An associated electrical starter panel is also supplied which is mounted in an enclosed compartment position.
Key features
FAS Delivery Systems
Astern liquids replenishment, available with NATO 1, NATO 3 and NATO 5 connections in accordance with NATO ATP-16 inter-operability standard
Standard hose diameters: Diesel (6"), AVCAT (4"), Fresh Water and/or Potable
Water (2.5")
Suitable for use in heavy sea states
All electric high performance Drives
Transfer with vessel speeds of up to 15knots
Low through life cost
3ph 440V & 690V AC supply options available
TYPICAL ASTERN REEL
Can be engineered to naval shock ratings
Fail-safe design including spring applied and magnetically released motor brake
Motor and brake protected by embedded phase temperature sensors and overcurrent devices
Wide reference list across NATO fleet
Structural design fully validated via third party assessment conducted by nominated marine classification society
Typical astern reel equipment specifications for 6" and 2.5" hoses, other configurations available
| | |
| --- | --- |
| Technical Detail | Specification |
| Pull from 6" Hose Barrel Section | 4 tonne from 1st layer |
| Barrel Speed (slow setting) | 24m/min. of hose from 1st layer |
| Barrel Speed (fast setting) | 48m/min. of hose from 1st layer |
| 6" Hose Accommodation | 228m of 6" diameter layflat hose in 5 layers |
| 2.5" Hose Accommodation | 228m of 2.5" diameter conventional hose in 5 layers |
| Hose Pressure Ratings (6"& 2.5" hoses) | 200psi working pressure |
| Hose Cleaning Facilities | 300psi test pressure |
| Hose Storage Vapour Pressure Relief | Foam pig cleaning provided for 6" & 2.5" hoses via separate pig launchers |
Services and support
24/7 Technical support

Our 24/7 technical support team is there to help at any time, day or night, wherever your vessel is.

Conversions, retrofit and refit

We understand the importance of having the right parts, available in the right place, at the right time.

Training

Ensure that your crew is properly and thoroughly trained. This will reduce operational risk, downtime and maximise return on asset investment.