Refueling at sea (Abeam)
Kongsberg Maritime fueling at sea (FAS) equipment offers un-paralleled performance and system maturity to meet the demanding requirements for naval replenishment schedules around the world.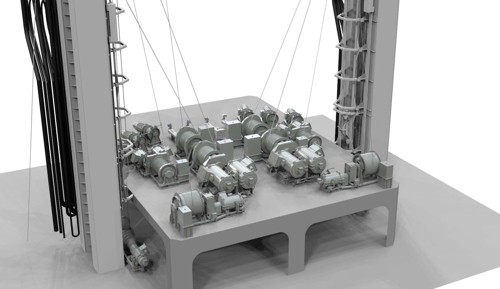 KONGSBERG RAS equipment utilises tried and trusted technology for naval applications in a marine environment. Our RAS systems have been developed over many years of close collaboration with navies around the world and have been thoroughly validated through in service operations.
Our RAS systems present a low risk solution for shipbuilders, proven by working with shipbuilders worldwide and working closely with major classification societies i.e. Bureau Veritas, Lloyds Register and RINA.
We pride ourselves in providing the world's leading replenishment at sea equipment optimised to your requirements with the highest availability. We also have the same philosophy about supporting our equipment throughout the world.
KONGSBERG's global reach extends to 34 countries around the world and supports its products through its global Services Network. This means we can rapidly provide field service support and spare parts close to the region of operation.
KONGSBERG has the right people with the right experience, product knowledge, customer knowledge, and expertise to be a trusted supplier to your business.
Key features
FAS Delivery Systems
NATO ATP-16 compatible interfaces
Liquids replenishment, available with NATO 1, NATO 3 and NATO 5 connections
Up to Sea-State 7 Operational Capability
All electric high performance Drives
24 to 55m Separation
Automatic Ship Motion Compensation
EXAMPLE TECHNICAL DATA
Transfer and Compatibility: Can transfer Ships Diesel, Aviation Fuel, and Water, using NATO 1, 3 and 5 connections.
Operational Capability: Can transfer liquids in seas up to sea-state 7
Vessel Separation: Payload delivery capable between 24m and 55m
All Electric Drives: Controlled by all electric AC Drive system, available with 440V or 690V, 3 phase ships supply connections. HV supply connections can also be incorporated
Ship Motion Compensation: Using automatic tensioning winches the system provides automatic ship motion compensation and ensures a safe control of wire rope tension
Low Through Life Cost: Due to the limited number of consumable components in the all-electric RAS system, maintenance routines are kept to a minimum, which ensures a low through life cost for the equipment
Services and support
24/7 Technical support

Our 24/7 technical support team is there to help at any time, day or night, wherever your vessel is.

Conversions, retrofit and refit

We understand the importance of having the right parts, available in the right place, at the right time.

Training

Ensure that your crew is properly and thoroughly trained. This will reduce operational risk, downtime and maximise return on asset investment.