Containerised RAS/FAS
Kongsberg replenishment at sea (ras) equipment offers un-paralleled performance
and system maturity to meet the demanding requirements of naval replenishment
schedules around the world.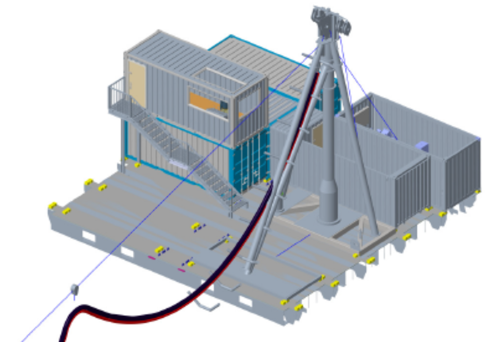 By installing the winches required to conduct all-electric Replenishment at Sea (RAS) into ISO shipping containers, the equipment can be installed on a Naval/commercial vessel in times of need and removed when not required. This allows modularity of the vessel depending on the mission objectives.
FEATURES AND BENEFITS OF AN ALL-ELECTRIC RAS SYSTEM
Integration:
Equipment Complexity - Equipment operation is simple and has a reduced parts count
Integration:
Cost of Installation & Commissioning On-board - Fully defined installation
and commissioning procedures.
Integration:
Power Conversion - Efficient power conversion using latest power electronic
technology.
Some of the key benefits of this design are the way that the shipping containers are used not only to house the equipment, but also to give supporting structure and height where required.
FUEL TRANSFER SYSTEM TECHNICAL DESCRIPTION
Saddle Winch and Control Panel Container – 40' Container
Jackstay Winch Container – 20' Container
RASCO Container – 20' Container
Workshop Container – 20' Container
Cooling System Container (Optional) - 20' Container
Tower Base - 20' Container footprint
Forward Stay Base - 20' Container footprint
Containerised RAS/FAS
SYSTEM DESIGN APPROACH

The key to the concept of the system was the rapid deployment, along with the utilisation of current KM hardware, to ensure that minimum new design was required where possible. The layout has been modelled around the standard layout of the KM RAS system, whilst keeping within the dimensional constraints
of the container footprints.
RAS System Concept
MODULAR CONSTRUCTION

By maintaining the dimensions from the use of ISO containers, the system is stackable and may be rapidly deployed onto prepared deck seatings.
RAS & FAS Transfer
MAST

To facilitate rapid installation, the mast design minimises full bolted connections, seen only at the base of the mast itself, and the sheave housing fabrication. The sheave housing fab should not need to be broken in normal operation.
Standard Abeam Liquids RAS Masts
INTERFACES

All interfaces, be they electrical, hydraulic, or chilled water will, where possible, be designed to utilise suitable connectors that maybe made or broken with minimum work required.

MAINTAIN PROVEN DESIGN
Where possible, the system has been designed around current KM products to maintain a low count on new product integration (NPI).
We pride ourselves in providing the world's leading replenishment at sea equipment optimised to your requirements with the highest availability. We also have the same philosophy about supporting our equipment throughout the world through comprehensive field service and repair capability.
KONGSBERG's reach extends to 34 countries around the world and supports its products through a global Services Network. This means we can rapidly provide field service, training, ILS support and spare parts close to the region of operation.
KONGSBERG has the right people with the right experience, product knowledge,
customer knowledge, and expertise to be a trusted supplier to your business.
Services and support
24/7 Technical support

Our 24/7 technical support team is there to help at any time, day or night, wherever your vessel is.

Conversions, retrofit and refit

We understand the importance of having the right parts, available in the right place, at the right time.

Training

Ensure that your crew is properly and thoroughly trained. This will reduce operational risk, downtime and maximise return on asset investment.