TACTICAL Radio link NATO band IV RL542A
100 Mbit/s, reliable and secure communication in a hostile electronic warfare (EW) environment.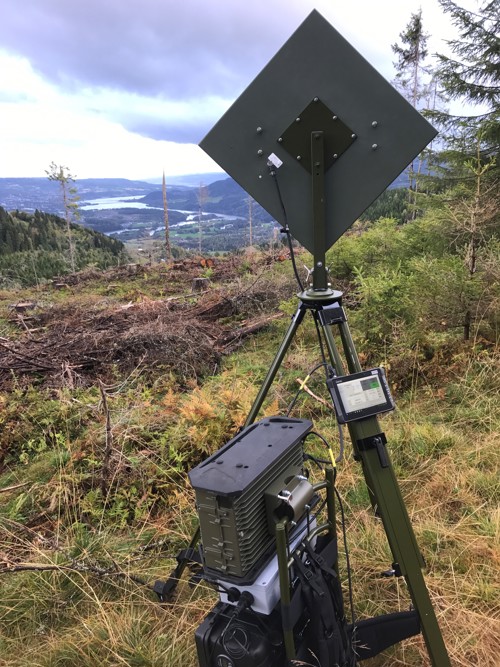 Product description
The RL542A NATO Band IV Radio Link, provides point to point and point to multi point high capacity secure connection between IP routers and between legacy TDM based systems. It is an integral part of the KONGSBERG K-TaCS Tactical communications System. Advanced anti jamming features and built in encryption ensure communication in hostile environments. The advanced design provides superior collocation capability. This fully ruggedized-by-design unit is installed on tripods, masts, buildings, towers. Fibre optical interface enables separation of connected systems and the RL542A.
Features
Frequency Range: 4.4 – 5.0 GHz
Duplex Spacing: Minimum 60 MHz (depending upon modulation)
Light weight and small – Easy handling
No need for any bottom of the mast or indoor unit.
Spectrally efficient modulation –16/64 QAM
Optical and copper interfaces for Ethernet IP and G.703
Secure (AES256) Point to Point and Point to Multi Point operation
Full band frequency hopping conventional and adaptive
Managed by SNMP, Web Interface or from KONGSBERG CMS
Technical data
Frequency Range: 4.4 – 5.0 GHz
Duplex Spacing: Minimum 60 MHz (depending upon modulation)
Channel Spacing: 125 kHz
Transmission Capacity: 1024, 2048, 4096, 8448, 16384, 34368 kbit/s,70 and 100 Mbit/s
Modulation: CPM / 16 QAM / 64 QAM
Engineering Order Wire: Over Ethernet
Output Power: +36 dBm CPM mode
Auto Mode Dynamic Range: 20 dB
Spurious Attenuation: 80 dB
Harmonic Attenuation: 60 dBc for 2nd & 3rd harmonics 80 dBc for higher order
Sensitivity:

- 8448 kbit/s: -86 dBm (16 QAM)
- 34368 kbit/s: -76 dBm (64 QAM)

TDM Interface: G.703
Router Interface: Ethernet 1000BASE-T or Optical.
Conventional full-band FH Mode
Conventional and adaptive FH: 2048 and 8448 kbit/s..
Automatic Power Control: All modes
Frequency Evasion: In fixed frequency operation
Pulse Jamming Protection: In fixed frequency operation
Environmental: MIL-STD 810
EMC: MIL-STD 461
Over Voltage: MIL-STD-1275
Temperature: -40ºC - +55ºC
Input Voltage: 19-32 or 40-60 VDC
Power consumption: <100W
Dimensions and weight: H x W x D: 190mm x 260mm x 400mm ex. handles. Weight: 13 kg
How can I help you?
Contact Us
Kongsberg Defence & Aerospace AS, Defence Communications, Drengsrudbekken 12, NO-1383 Asker Norway