The relationship between KONGSBERG and Thales UK has strengthened and grown since the first Teaming Agreement was signed between the two companies in 2007.
Since then, KONGSBERG and Thales UK have worked together to promote the PROTECTOR Remote Weapon Systems (RWS) in the UK and to deliver the world's most advanced RWS to its Ministry of Defence.
"PROTECTOR Programmes, projects and capability areas KONGSBERG and Thales UK aspire to collaborate in have steadily grown since we signed the last agreement in 2017. Both companies have expressed a high level of ambition to expand our relationship over the coming 5 years," says Eirik Tord Jensen, Executive Vice President Land Systems, KONGSBERG.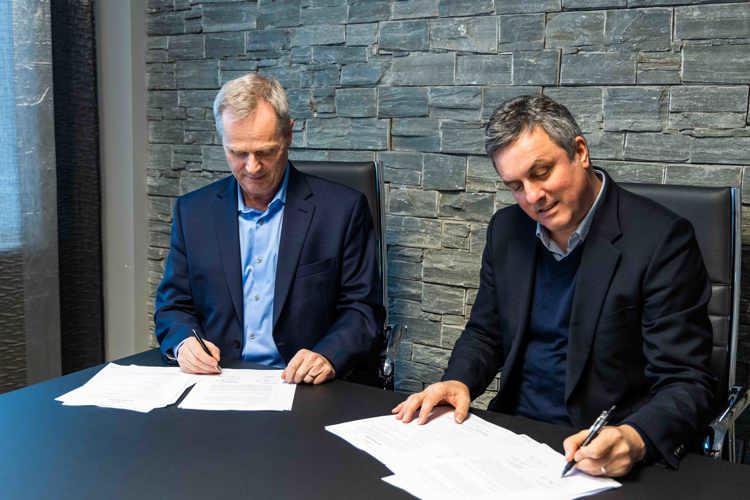 The PROTECTOR RWS has been in regular use in a variety of operational theatres and on a variety of military Land Platforms since the late 1990s. Over 1000 systems have currently been contracted for Service within the UK Armed Forces.
Stephen McCann, Managing Director of OME within Thales UK said: "I am delighted to be re-signing this memorandum of agreement that consolidates our existing partnership over 20 years. A partnership that has secured a major role within the UK Army's Boxer Strategic Pipeline and has grown from strength to strength. I look forward to extending the reach and scope of a partnership in the UK and throughout Europe and supporting Kongsberg in the United States of America."
Numbers of PROTECTOR RWS in Service with UK Armed Forces have increased steadily over the years, with an important contract to deliver RWS to AJAX being won in 2015, and with a subsequent contract to deliver RWS to the British Army's new BOXER Mechanised Infantry Vehicle Programme being won in 2020. Subsequently, additional contracts have been awarded to KONGSBERG to upgrade existing RWS and to increase the number of systems in Service with British Army.
The PROTECTOR RWS was originally competitively selected by the UK Ministry of Defence based on the systems' high sensor performance, firing accuracy and system modularity/flexibility, which have all been key in establishing the PROTECTOR's role as the RWS of choice for a number of UK's Land Platform Programmes.