All photos courtesy of GDELS.
The PROTECTOR RS4 Remote Weapon System is a mature and proven product based on millions of hours of operational experience. KONGSBERG is in close cooperation with Defence Forces around the world for continual system enhancement in order to meet new user requirements and leverage new technology.
In continuous and close cooperation with Switzerland, KONGSBERG has delivered in total five variants of Remote Weapon Systems to the country's Defence Forces. According to the new delivery contract, the Swiss Forces will use KONGSBERGs newest version of weapon systems, the PROTECTOR RS4. In 2018 KONGSBERG created Kongsberg Defence Switzerland AG to deliver service maintenance and technical support to the Swiss Army and to further develop and build on the valued, local expertise.
"armasuisse, the Swiss Armed Forces, and KONGSBERG has a long and strong relationship and we are proud to announce a new and important PROTECTOR RS4 delivery contract signed between the parties," says Pål Bratlie, Executive Vice President, Land Systems, KONGSBERG.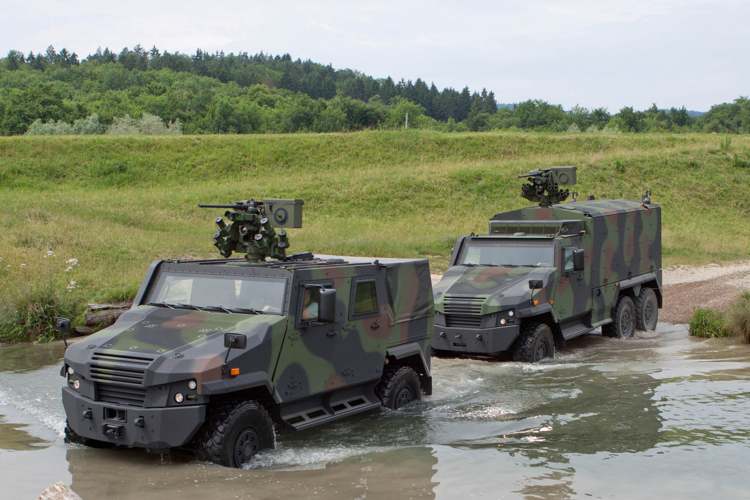 During defence operations, armed forces need effective and successful equipment that can handle extreme environmental conditions, with capabilities that allow soldiers to operate from a protected position. That is why KONGSBERG has, for more than two decades, been the world-leading global supplier of Remote Weapon Systems. Utilizing advancements in technology in order to meet new threats and demands, PROTECTOR product range covers a wide variety from the small and light systems to medium caliber Remote Turrets (RT series).
Among a wide range of capabilities, the PROTECTOR family also enables dual-user operations, counter UAS (Unmanned Aerial System), multi-sensor fusion, manned-unmanned teaming solutions, a qualified Safe operation via radio for use on UGVs (Unmanned Ground Vehicles) as well as other new functions required by the expanding user community.
KONGSBERG's PROTECTOR family of Remote Weapon Station products are suitable for any mission whether on land or at sea. Integrated on mobile or static platforms, the stations enable remote operation. As the world's most fielded RWS with over 20.000 units delivered worldwide the PROTECTOR RS4 is been continuously updated to reflect the new customer's operational requirements.