Continuous research and development
"Our competence is important for Norway as a nation, and our products play a vital role securing information nationally as well as internationally," says Anne Marie Hegland, Department Manager in the Safety, Network & Security department in Kongsberg Defence & Aerospace.
It is crucial for a supplier in the defence industry to work with continuous research and development. KONGSBERG constantly seeks state-of-the-art, and plays an active role as a partner in multiple international research projects within crypto and cyber security.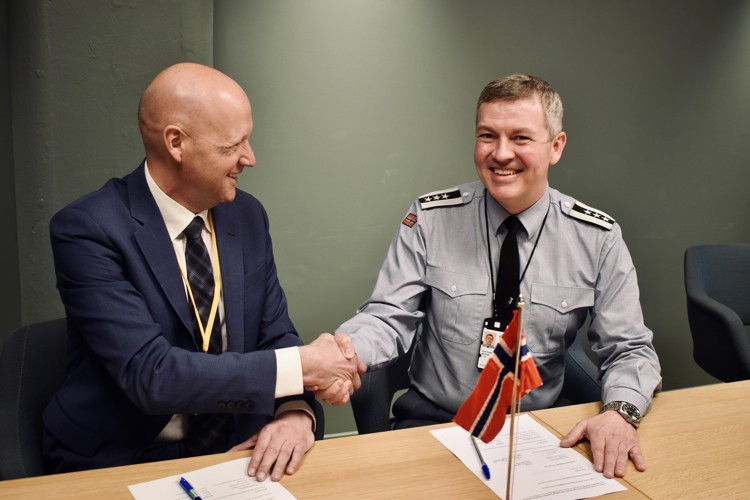 Many years of experience in the field of crypto technology
The agreement underlines Norway's and KONGSBERG's position as a trusted vendor of secure communication solutions. For KONGSBERG, - this act of confidence by the NSA is based on more than 50 years of experience, high level of competence as well as innovative technology. With more than 25 000 encryption solutions sold, it shows that KONGSBERG and Norway continue to be a trusted and reliable supplier of crypto technology.
"Expertise in cyber security is crucial for civil protection and emergency preparedness. This is something KONGSBERG has worked with for many years – both through the systems we have developed and through our own Cyber Security Center establishment," says Hegland.
Our solutions
KONGSBERG is a world class supplier of secure tactical communication systems. Our embedded crypto solutions optimize size, weight and power without sacrificing flexibility. The integrated crypto enables enhanced exploitation of the available communication capacity. This is important both in emerging communication systems for unmanned and autonomous vehicles as well as for robustness and resilience in traditional tactical communication systems. A PART OF THE NATIONAL PREPAREDNESS AND EMERGENCY PLANNING
Kongsberg Defence & Aerospace (KONGSBERG) delivers high-tech systems and solutions to industries such as offshore, oil and gas, merchant fleet, aerospace and defence. In addition, KONGSBERG have taken on a great deal of emergency preparedness and emergency planning by partnering with the Norwegian Armed Forces.