GT420, GT422 and GT423 Marine Differential Pressure Transmitters
Differential pressure transmitters designed for general purpose use in maritime and offshore applications.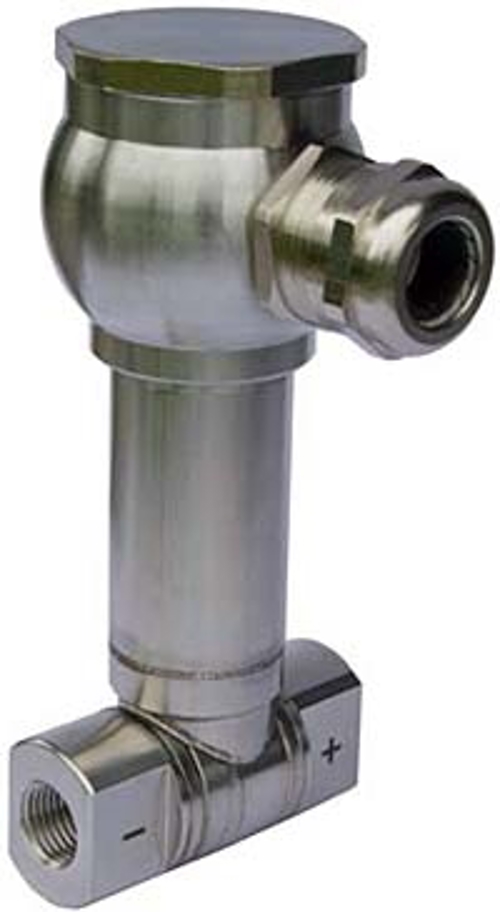 The GT420, GT422 and GT423 are differential pressure transmitters designed for general purpose use in maritime and offshore applications. A differential pressure can be measured between two points on independent systems or between two different points.
Key features
Accuracy of 0.25 % FRO
Low long-term drift
Pressure ranges up to 25 Bar
Single element design
Excellent overload capacity
HART compatible
Body of AISI 316
Rugged construction
Ex certification II 1 G Ex ia IIC T5
Typical applications
Hydrostatic level measurement of a tank's content, where the gas of the top of the tank is not vented
Leakage monitoring by measuring the difference in pressure between a controlled reference pressure and the component under test pressurised to the same pressure
Density measurement of a fluid where a reference height indirectly gives the density
Filtration monitoring where the difference between upstream and downstream indicates the contamination of the filter
Transmitter are available with pressure ranges up to 25 bar. Standard zero point is 0 bar differential (4 mA output), but other options are available.
Mechanical design
Each transmitter consists of a sensing element with a signal converter unit encapsulated in a body made of stainless steel, AISI 316.
Three different connections are available.
DIN EN 17301 power connector
Connection box with cable gland
Flanged for watertight connection
Electrical connection
The pressure transmitter require connection to a 24 VDC power supply, and provide 2-wire connection with 4-20 mA current loop output. A screened cable must be used from the transmitter to the monitoring system for GT420 and GT422. A dedicated PUR cable with a flange connection must be used for GT423.
Mounting and installation
Kongsberg Maritime can deliver detailed installation instructions and necessary installation material for various installations. Please ask for documentation according to applications.
Power supply
Power supply to the transmitter is 24 VDC nominal, and can vary from 12 to 32 V. As an Ex transmitter it's restricted to 28 VDC. The allowable load is determined by the minimum power supply.
Intrinsic safety
Electrical connection in hazardous areas has to be through a Zener barrier, i.e. the Kongsberg DZ-110 Transmitter Barrier.
Services and support
24/7 Technical support

Our 24/7 technical support team is there to help at any time, day or night, wherever your vessel is.

Conversions, retrofit and refit

We understand the importance of having the right parts, available in the right place, at the right time.

Training

Ensure that your crew is properly and thoroughly trained. This will reduce operational risk, downtime and maximise return on asset investment.