Steel Waterjet S-3
The Kamewa S3 is developed for the largest and most demanding applications. The waterjets are equipped with a mixed-flow pump for maximum efficiency. To facilitate the hydrodynamic performance of the pump the built-in bearings keep the impeller in correct position and provide control of the important tip-clearance. The outboard bearing position also simplifies the overall load distribution in the aft ship and leads to efficient use of the inlet duct as load carrying structure.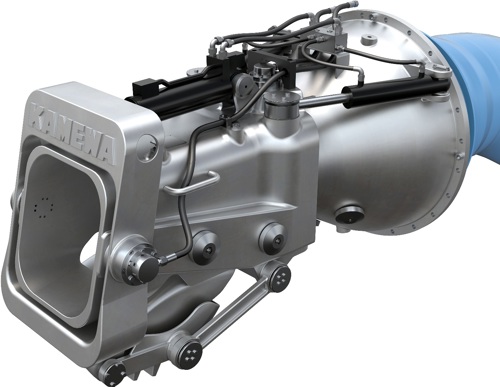 Low and high speed performance in the same package
At the heart of the waterjet is the fully stainless steel mixed flow pump. There are different impellers depending on application. Efficiency has been achieved by using the latest computational fluid dynamics (CFD) techniques combined with extensive testing in the cavitation tunnels at the KONGSBERG Hydrodynamics Research Centre. The S3 steel series waterjets can be individually optimised and selected based on boat design requirements and operational profile.
Heavy duty stainless steel pump unit
The S3 steel series is as always equipped with a duplex stainless steel pump unit providing the best possible durability under any circumstances. Best in class components are used, providing long life and reliable service. These are enabling up to 25,000 h or 5 year time service/replacement of wear parts.
TECHNICAL DATA
| | |
| --- | --- |
| Waterjet size | Max power (kW) |
| S56-3 | 3440 |
| S63-3 | 4300 |
| S71-3 | 5120 |
| S80-3 | 6500 |
| S90-3 | 8300 |
| S100-3 | 10200 |
| S112-3 | 12800 |
| S125-3 | 15900 |
| S140-3* | 20000 |
| S160-3* | 26000 |
| S180-3* | 33000 |
| S200-3* | 41000 |
Bollard pull capability closing the gap to conventional propulsors
Kamewa waterjets have an optimized inlet duct design as standard, providing extremely good low and mid speed performance. In practice this means increased bollard pull thrust comparable to conventional propulsors. High speed inlets are available for speeds exceeding 45 knots.
Stand alone installation with inlet drawing
Available from size 56 to 200. Waterjets are supplied with drawings of hydrodynamic design of inlet ducts. This enables optimal performance and hull stiffness when building in FRP.
Remote control systems
Kongsberg Maritime can supply a number of different control systems for waterjets, ranging from rugged, standardised systems and up to multi station, custom design systems.
Services and support
24/7 Technical support

Our 24/7 technical support team is there to help at any time, day or night, wherever your vessel is.

Conversions, retrofit and refit

We understand the importance of having the right parts, available in the right place, at the right time.

Training

Ensure that your crew is properly and thoroughly trained. This will reduce operational risk, downtime and maximise return on asset investment.
How can I help you?
Magnus Fahlén
VP Waterjet Sales