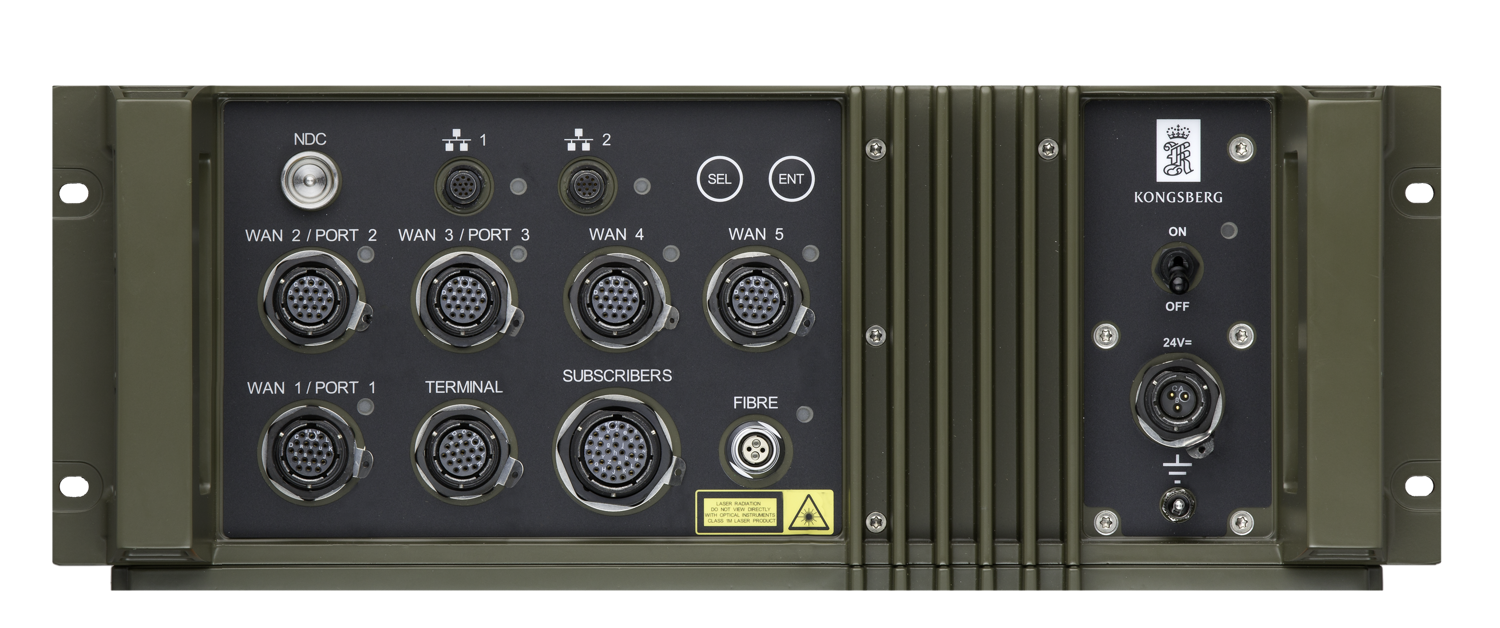 Tactical router & media gateway
The IPX600 is a high capacity tactical Router, TDM switch and media gateway that integrates modern IP subscribers and networks in addition to legacy tactical networks and subscribers.
IPX600 is the main networking component of K-TaCS, Tactical Communication System from KONGSBERG. This high capacity Router and TDM switch provides a wide range of IP and circuit switched network services.
Its small size and low weight together with its inherent properties for communication readiness, makes IPX600 particularly suitable for communication between tactical units frequently on the move.
IPX600 is a configurable media gateway and router, supporting a range of different interfaces. It integrates IP networks and legacy tactical networks and Provides IP networks with Military Gateways.

IPX600 is fully ruggedised, designed for harsh environments.

Features
Integrated Call Control, supports up to 100 VoIP telephones
• Voice, data and management service integration with legacy circuit switched and Combat level IP system
• Media Gateway supporting SIP, STANAG, ISDN and EUROCOM GWs, enabling calls between TDM based systems and Voice over IP subscribers
• Multimedia access unit via Optical Fibre or Radio Link
• Supports EUROCOM terminals and circuit switched equipment
Technical data
PORT CONNECTIONS
o 5 x WAN, 2 x LAN 1 x Fibre
o 1 x Operation and Maintenance
o Up to 8 x DSL
SUBSCRIBERS
o 15 x Legacy Telephones
o 100 x VoIP Telephones
PROTOCOLS (excerpt)

o SIP
o RIPv2 and RIPng
o OSPFv2 and OSPFv3

o BGP
o BABEL
o PIM-SM/SSM
o RTP
o NTP
o DLEP
o LLDP
o STANAG 4206, Q.931/QSIG
o STANAG 4578 Ed.1
o
SERVICES
o IPv4/6 DHCP Server /Client
o Call Handling NTP Server
o SIP Telephones Remote Management From CMS
INTERFACES
o Ethernet: 10/100BASE-T/TX
o ITU-T: V.11 256, ..8448 kbit/s

o ITU-T: G.703 256, .. 8448 kbit/s
o EUROCOM D/1: 256,.. 8448 kbit/s
o STANAG 4206: 256, 512 kbit/s
o STANAG 4578 Ed. 1: 2048 kbit/s
o Fibre: 1 Gbit/s
• DIMENSIONS
o H X W X D: 177 X 483 X 350 mm

o Weight: 19 kg
How can I help you?
Contact Us
Kongsberg Defence & Aerospace AS, Defence Communications, Drengsrudbekken 12, NO-1383 Asker Norway