Soyuz successfully launched two Galileo satellites
Horten, 23rd October 2012 - A European version of Russia's Soyuz rocket successfully delivered two Galileo in-orbit validation satellites into their designated orbit on 12th October from Europe's launch site in French Guyana. On board both satellites were Frequency Generator and Upconverter Units (FGUU) supplied by Kongsberg Norspace AS.
The first pair of validation satellites in the planned Galileo constellation were launched a year ago, also by a Soyuz launcher from French Guyana. Two experimental satellites, Giove-A and Giove-B, launched in 2005 and 2008, respectively also carried FGUU equipment supplied by Kongsberg Norspace.
Kongsberg Norspace's chief executive, Sverre Bisgaard, who attended the latest launch of two Galileo satellites from French Guyana, stated: "It was a great pleasure to be invited by ESA to attend the launch. The invitation, I understand was made as a tribute to the key contribution to the Galileo system provided by some of the smaller companies."
The FGUU delivered by Norspace uses the on board atomic clock frequency reference to generate all the clock signals and local oscillator frequencies used in the Galileo payload, including the frequency converters embedded in the FGUU itself.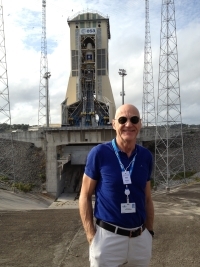 For further background information on the two-satellite launch, see below article from Space News published on 13th October:
Link here: