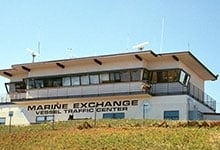 "Marine Exchange of Southern California requires a highly accurate VTS Traffic Image primarily based upon high resolution radar" says Reidar Olsen at Kongsberg Norcontrol IT. "The Marine Exchange tested various solutions from several providers before selecting C-Scope. C-Scope offers the highest quality and accuracy, as well as the most flexible Human Machine Interface for portraying information according to the individual requirements.
The Marine Exchange of Southern California facilitates the development and efficient flow of maritime commerce throughout the region and provides pilotage services and Vessel Traffic Services for the Port of Los Angeles, the second busiest port in the United States and the busiest port of the west coast. This non-profit organization, the only public-private partnership VTS in the United States, has looked to Kongsberg Norcontrol IT for their VTS technical solutions since 1993, starting with the VTS5000 system and upgrading to the VTMIS5060 in 2001 before choosing the new C-Scope VTS system of the different partners."
"The cooperative services provided by Marine Exchange is still an innovative approach in the VTS market," says Steve Guest, Director of Marketing and Sales at Kongsberg Norcontrol IT. "As a like-minded innovator within VTS, Kongsberg Norcontrol IT is the natural technology provider to Marine Exchange of Southern California, and we are very pleased to continue our long relationship."
Read more about Marine Exchange of Southern California here