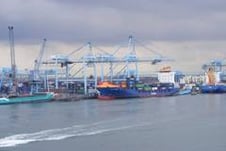 SafePort offers the first advanced vessel traffic management system designed for constrained ports, or waterways with high traffic densities, with integrated portable pilot unit. It is said to deliver accurate, secure and reliable navigation and positioning information which in turn enables for safer and more efficient navigation and berthing.
The project which has received community funding and is being supervised by the European Global Navigation Satellite Signal (GNSS) Agency, was designed to address the need to maintain safety standards as the size of crews and its relative experience diminishes whilst increasing capacity in constrained waterways. Leading a consortium of nine organisations from across Europe, BMT was responsible for the development of the path planning capability which will help to reduce time and fuel wastage and taking the first tentative steps towards the autonomous ship.
AIS-position reports can be misleading for various reasons such as systematic errors, installation issues, time delays, atmospheric conditions affecting the GNSS signal. Vessels entering and leaving the port are therefore monitored using a portable pilot unit which uses the European Geostationary Navigation Overlay Service (EGNOS) both to provide highly accurate position reports and also an indication of the positional uncertainty.
The SafePort project was co-ordinated by BMT Group Ltd in the UK and comprised: Marimatech AS in Denmark; Dublin Port Company in Ireland; NEXT Ingegneria dei Sistemi SpA; Institutio Superiore Mario Boella Sulle Technologie; Dell'informazione e delle Telecomunicazioni all of Italy; Kongsberg Norcontrol IT of Norway; Autoridad Portuaria de Gijon in Spain and University of Strathclyde in Scotland.
Republished with permission from Ship & Offshore.