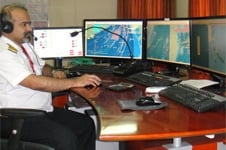 The Gulf of Khambhat VTS, a joint venture BOOT (Build, Own, Operate, and Transfer) project of Aatash Norcontrol, has been recognized by the Indian Coast Guard for their invaluable assistance in a search and rescue operation.
The Gulf of Khambhat is a challenging area to monitor due to the shifting seabed and strong currents. Typically, 60-65 vessels enter and exit the Gulf each day. Even though the Gulf of Khambhat VTS only became fully operational one year ago, they have already proved invaluable to vessel navigation and Allied Services. In particular, the 22 January sinking of a ship demonstrated the important role of the VTS, which provided real-time updates to search and rescue operations and enlisted vessels in the area to assist in the search.
"Your swift response and timely co-ordination for search of missing crew speaks high volumes of your concern for mariners," the Indian Coast Guard states. "The real time updates of the situation were of valuable assistance for mobilization of the Indian Coast Guard and other assets…leading to saving 25 precious lives at sea. Further, your role in deploying/diverting other vessels in the area for searching of missing crew shows the highest maritime traditions and the humanitarian aspect of shipping."
Kongsberg Norcontrol IT is proud to be partnered with Aatash Norcontrol in this joint venture to not only equip a VTS centre, but also to build, staff, and operate. Aatash Norcontrol Ltd. is a joint venture between Kongsberg Norcontrol IT and Aatash Computers Ltd., which signed the BOOT contract with the Gujarat Maritime Board. The Agreement is for the provision of surveillance and information regarding all vessel traffic to and from existing and future ports in the Gulf of Khambhat.