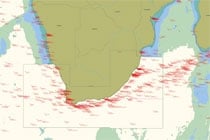 As part of an effort to increase maritime security for the 2010 FIFA World Cup, Marine Data Solutions, Kongsberg Norcontrol IT's partner and associate company in South Africa, integrated space-based AIS into the KNC C-Scope VTMIS system.
The South African Maritime Safety Authority (SAMSA) operates the C-Scope system at its Centre for Sea Watch and Response (CSWR), which houses the Maritime Rescue Coordination Centre (MRCC), located in Cape Town, South Africa.
The use of space-based AIS data is part of an ongoing trial of the South African Maritime Safety Authority (SAMSA) to improve maritime safety and security in the busy shipping lanes and the Search and Rescue (SAR) area for which SAMSA is responsible. By integrating space-based AIS data into the KNC C-Scope system, the Cape Town based CSWR was able to detect and communicate with ships out-of-range of traditional AIS systems.
Providing the S-AIS data was exactEarth Ltd and OrbComm.
SAMSA required the S-AIS trial system to provide adequate visibility of the Satellite and Coastal AIS vessel traffic for both its own purposes and those of South African military/defence institutions. As a system integrator and display solutions provider, Marine Data Solutions worked closely with exactEarth and OrbComm to ensure that the trial system met those objectives.
Marine Data Solutions (MDSol) is a privately owned company that has established itself as a leading provider of maritime technology solutions for customers on the African continent. MDSol has equipped all eight major South African ports with an integrated vessel traffic monitoring solution from the world's leading VTMIS provider, Kongsberg Norcontrol IT, which has delivered more than 200 VTMIS systems to customers in more than 40 countries. MDSol, a certified Broad Based Black Economic Empowerment entity, is owned by management, staff and the Kongsberg Group of Norway.
"MDSol is proud to have been instrumental in contributing towards increased maritime security and safety during such an important global event and will continue doing so into the future" says Steve J. Nell, Managing Director of Marine Data Solutions.