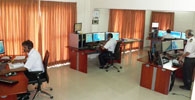 On September 1, 2010, Aatash Norcontrol and Kongsberg Norcontrol IT made history when VTS operations commenced in the Gulf of Khambhat, Gujarat, India. This milestone in the first BOOT (Build, Own, Operate, Transfer) VTS in Kongsberg Norcontrol IT's long history was reached when Aatash Norcontrol received a Commencement Certificate from the Gujarat Maritime Board on August 15, 2010, which allowed VTS operation to begin in the Gulf of Khambhat.
Aatash Norcontrol is an Indian joint venture between Kongsberg Norcontrol IT AS and Aatash Coputers Ltd., which signed the BOOT contract with the Gujarat Maritime Board in 2007. The agreement, exclusive for 30 years, is for the provision of surveillance and VTS Information service to all vessel traffic to and from existing and future ports in the Gulf of Khambat.
The state-of-the-art VTS system includes the VOC5060, a marine communications system, integrated radar and AIS, and a unique Port Management Information System (PMIS) that will greatly improve the efficency delivery of VTS services, and so enhancing the safety and security of maritime traffic in the Gulf of Khambhat.
The entire VTS system passed the SAT with flying colors, and operators received V-103 compliant VTS training prior to receipt of the Commencement Certificate.