This article (translated from Norwegian) is originally written by Torgeir Braathen. First published in Nordlys. All photos courtesy of Nordlys.
HIGHEST TEST SCORE
After three days of hard work, 21-year old Dennis Johansen Rotvold was able to say that he had passed his final Avionics exam with flying colors.
"It has been intense with very little sleep, so it will be great to take some time off this weekend. I have been preparing for this test for a very long time and it has been stressful. So it's a relief to be done. It's finally in the bag," said the young man from Tromsø.
EDUCATION
Dennis studied Aeronautics at Bardufoss Upper Secondary School for three years, before he was accepted as an K-Tech apprentice at their training centre in Bardufoss. K-Tech's mission is to provide highly qualified technicians who will work on aircrafts, such as the NH90 helicopter, for the Norwegian Air Force.
"I'm interested in aircrafts and when I saw that Aviation Electronics were on the list of courses I could apply to, I applied. I didn't know anything about aircrafts, but when came to Bardufoss it was like my teachers ignited a spark," said Dennis about the career choice he made in upper secondary school.
Dennis is the first apprentice in history to have graduated as an Avionics apprentice at K-Tech Bardufoss. That means that Dennis knows everything you need to know about electronic systems onboard an aircraft.
"Dennis is an enormous resource. Not only was he our best Aviation Electronics student, he also created a system for follow-up of equipment and tools, and on his spare time he built his very own jet engine," said a proud Stein Sandvold, General Manager of K-Tech.
Sanvold also said that Dennis' final exam will go down in history in terms of the way it was done. Specifically because the materials and components used in the exam are no longer operational. Dennis' final practical exam was done on a decommissioned Beechcraft medevac aircraft.
"The fact that we used materials and components from an aircraft that was just sitting there collecting dust is a milestone. This was the first time it has been done, and the results was just as good," said Sanvold.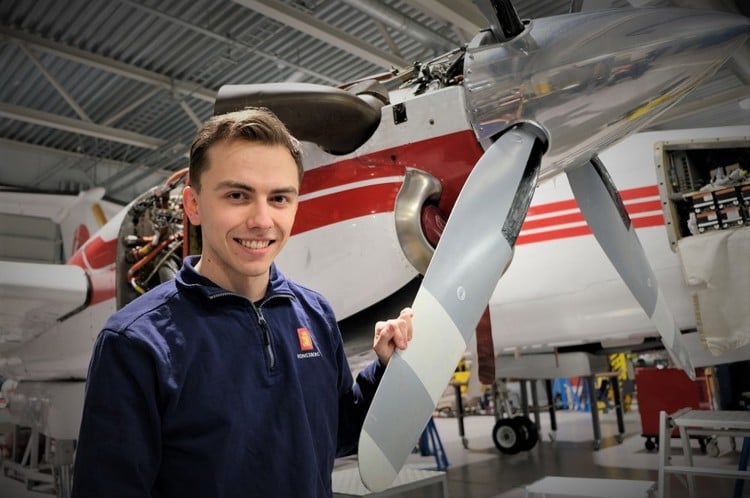 Kongsberg Defence & Aerospace needs Aviation Electronics mechanics and technicians
Kongsberg Aviation Maintenance Services (KAMS), a subsidiary of Kongsberg Defence & Aerospace, has a long-term agreement on maintenance, repair and operations of the Norwegian Air Force's NH90 helicopters, and KAMS' Site Manager Vegar Gystad is busy trying to obtain qualified people for the job.
"Our level of ambition at Bardufoss is high and we want more young people to obtain an Aviation Electronics education. Aviation electronics technicians and mechanics are going into retirement, so the number of qualified people has decreased. Together with K-Tech and Bardufoss Upper Secondary School, we try to show local youth in Northern Norway that obtaining an Aviation Electronics education here – and live here - is very good choice," said Gystad.
Chief Sergeant Odd Helge Wang, 139 Air Wing (139 Luftving) of the Norwegian Air Force at Bardufoss, confirmed that people like Dennis is in high demand and that many more like him are needed.
"The need for qualified personnel is high. In the northern region of Norway - Bardufoss, Evenes, Tromsø and Banak - we need 30 new Avionics Technicians every year for the next decade. We have a joint recruitment strategy with K-tech and the local school, so we hope we will be able to reach this goal. And It may look like the downward trend is reversing," said Chief Sergeant Wang, referring to the increasing number of applicants to the Aviation Electronics education.
Dennis recommends the Aviation Electronics education to other young people – who has certain qualities. "They must have common sense, and a good attitude."
Do you live in Norway and interested in a career as Avionics Technicians or mechanic? You can read about how to apply here.