Today, traditional production methods are largely used with well-established and qualified processes for the manufacturing of structural parts. To be a future market leader, KONGSBERG is dependent on developing products that perform better than its competitors at a competitive price point and with shorter lead time – this requires a new mindset.
"It quickly became clear that the new RF-concept with bigger antenna surfaces was a potential candidate for alternative production methods. Future performance requirements for Antenna Pointing Mechanisms (APM) are extreme, and I was worried that it would be very challenging and costly to reach an acceptable solution given our current design methods and capability," says Johan Mürer, Product Manager, Antenna Pointing Mechanisms at KONGSBERG.
Johan Mürer therefore decided to reach out to Peder August Aune and Christer Kobbevik Oldeide, both Technical Leads at ReThink, to establish a feasibility study to investigate potential design and production optimizations in order to reduce the weight of the larger RF-parts.
ReThink contributes to innovation of product development
ReThink is a competence centre located in Kongsberg. The centre focuses on product and system design within additive manufacturing, and it was established by KONGSBERG, TechnipFMC, Kongsberg Automotive and GKN Aerospace. ReThink and its facilitation centre is located at Kongsberg Innovation.
Additive manufacturing (AM) is a collective term for production technology where products are built by layers of different materials. A positive effect of additive manufacturing is that it provides a better utilization of materials and it is therefore more sustainable. The production method of using layers makes it possible to produce products that was not possible to create only a few years back.
"It has been very exciting and instructive to use design for Additive Manufacturing to create a technology feasibility demonstrator for the space industry. We chose to redesign a selection of four components from a potential, future APM-design - both antenna mirrors and two other structural sub-components. Then we used ReThink's design methods and digital tools, and specifically topology optimization to create a new, optimal design for each component," says an enthusiastic Peder August Aune.
After just under 6 weeks, ReThink presented an impressive result from the demonstrator. It showed 40 percent weight reduction and more than 100 percent increase in stiffness to weight (specific stiffness).
Both weight and stiffness are important properties for the components used in satellites. The components need to be able to withstand the enormous stress from vibrations when launched into orbit. The weight of the components is important for the total cost of launch. The results were presented to a large and enthusiastic crowd from ReThink and KONGSBERG.
"We have, as a complete and final evidence of the feasibility of the methodology, printed prototypes in high strength aluminium at APWORKS – a leading partner in additive manufacturing for space and aerospace in Germany. The result is highly delicate, with an organic and slim look with extremely thin material cross sections. We can assure you, through advanced analysis of results, that the components can and will withstand a launch," says Christer Kobbevik Oldeide, Technical Lead at ReThink.
"For this project, we actually decided to take a conservative approach to the design process. With more time it is therefore possible to further improve on the performance of these designs," adds Aune.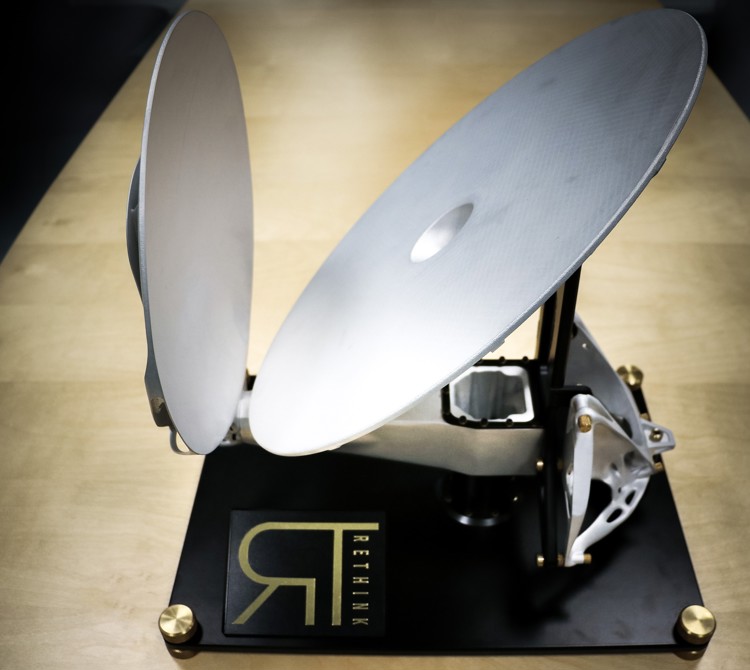 Great opportunities for the future
The feasibility study has been submitted ESA. The feedback has been overwhelmingly positive, pointing out the impressiveness of achieving significant results in such a short amount of time.
Through the General Support Technology Programme (GSTP) ESA takes leading-edge technologies that are not ready to be sent into space and then develops them to be used in future missions. ESA encourages KONGSBERG to continue to pursue product innovation using additive manufacturing.
"There is still a great deal of work to be done before we have components, developed with AM, to be space qualified," says Johan Mürer.
"We specifically need to ensure the production method will yield stable, high quality results, reduce unit price and post processing of the components in order to achieve the appropriate surface finish and tolerances for use in space applications. This needs to be in place before KONGSBERG can offer APM with 3D-printing," he says.