The first programme in relation to the cooperation will be delivery of communication, digitalization and tower solutions for military vehicles, a programme with a potential of approximately NOK 15 billion over the next eight years.
The programme will be the largest in KONGSBERG's history and entail 15.000 Norwegian man-labour years and involve more than 170 Norwegian sub-suppliers.
Together with Barzan Holdings, KONGSBERG has established a new company for technology development programs. The company, BK Systems, will have its main office in Qatar Science & Technology Park, and KONGSBERG holding the CEO position. The park is an innovation hub for leading international industry and universities.
- BK Systems will be an important company for the development of technology and solutions within defence, digitalization and maritime industry in Qatar. The establishment of this cooperation shows that Norwegian high-tech industry is world-leading and in demand. We see considerable opportunities and potential for Norwegian industry and technology development with this establishment, says Geir Håøy, President and CEO of KONGSBERG.
Today, Barzan Holdings announced the companies that have been selected to deliver to the country's upcoming vehicle programme which is to be delivered over the next eight years.
KONGSBERG is to deliver tower solutions, and digitalization and communication solutions to 490 armoured vehicles delivered by the French company Nexter. The next steps in the process will be detailing and final negotiations prior to signing the final contract for the programme.
- The vehicle program will be KONGSBERG's single largest contract ever and entails considerable Norwegian value creation and high-tech jobs for many years to come. The potential is approximately 15 billion kroner for KONGSBERG. Approximately 15.000 Norwegian man-labour years and more than 170 small and medium sized sub-suppliers will be involved in the programme over the next eight years, says Håøy.
KONGSBERG is to deliver the solutions "PROTECTOR Remote Weapon Station" and "Medium Caliber Turret" to the programme, both tower solutions developed for increased protection of personnel.
The PROTECTOR Remote Weapon Station is a system that was developed in cooperation with Norwegian armed forces towards the end of the 1990s, and has since been continuously developed and is now the world-leading solution with close to 20.000 systems delivered to 19 nations.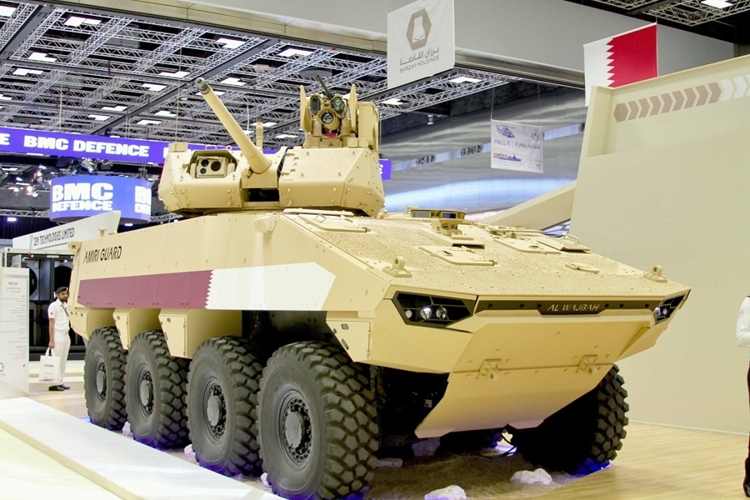 The Medium Caliber Turret is a further developed, larger sized solution currently under delivery to the US armed forces. In addition to the delivery of the tower solutions, the agreement also includes delivery of integrated digitalization and communication solutions for the vehicles.
- Together with other Norwegian high-tech industry, KONGSBERG has for decades built up world-leading competence on system integration, decision support tools and digitalization solutions which are to be delivered to this vehicle programme. Today we are the world-leading supplier of these systems and we are pleased that the Qatari authorities have chosen our solutions, technology and competence, says Håøy.
For further information, please contact: Ronny Lie, Group Vice President Communications, Kongsberg Gruppen ASA, Tel.: (+47) 916 10 798.
KONGSBERG (OSE-ticker: KOG) is an international, knowledge-based group delivering high technology systems and solutions to clients within the oil and gas industry, merchant marine, defence and aerospace. KONGSBERG has 7 000 employees located in more than 25 countries and total revenues of NOK 14.5 billion in 2017. Follow us on Twitter: @kongsbergasa.
This information is subject to disclosure requirements pursuant to §5-12 of the Norwegian Securities Trading Act.