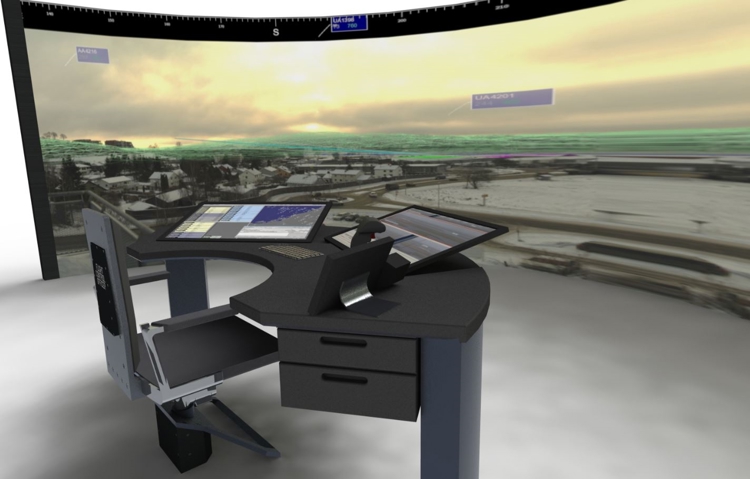 The scope contains a complete solution for remote control of tower services at a number of airports from one location. Avinor has earlier decided to introduce remote control and tower services at up to 15 airports, from one tower centre in Bodø. A further investment may include more Avinor airports. The agreement between Avinor and KONGSBERG is the most comprehensive commitment in remote towers ever launched in international aviation.
KONGSBERG employs technology from defence projects and integrates them with Indra Navia's advanced and very modern solutions for tower management. This technology includes amongst others rugged and innovative sensors, secure and redundant network based solutions for remote control of towers, as well as control of real-time data and data storage solutions.
Indra Navia will deliver an integrated visualization systems based on their leading Nova Tower line supplied worldwide, amongst others to London Heathrow, Paris Charles de Gaulle, Dubai, Beijing and many more.
- We look forward to a close collaboration with KONGSBERG and Indra. The companies have proven their ability to deliver the best solution for Avinor, in a fierce competition with other international suppliers. Now the work for fully establishing a remote tower center and introduce future tower services, says Avinor CEO Dag Falk-Petersen
- This contract is of great importance with the highest attention in KONGSBERG, and an example on the potential in our span of technologies and possible synergies. Remote tower solutions is a market in the starting phase internationally, says President in Kongsberg Defence Systems, Harald Ånnestad.
- Indra Navia is proud to be part of this important and pioneering contract, which includes a new use of our Nova-system. With more than 95% export of tower systems from Norway to the world's leading aviation organizations and airports, we look forward to cooperating with Avinor and KONGSBERG, then provide this unique solution to a growing international market, says President in Indra Navia, Eldar Hauge.
For the editor:
Avinor, KONGSBERG and Indra will in two weeks invite media to a presentation and technology demonstration of the project. There will be opportunities for interviews and a closer inspection of the future remote tower solution. Please register with Mr Johannes Dobson, telephone +47 906 77 262, email
For further information:
Avinor:
Kristian Løksa, Communication Manager, telephone +47 934 52 603
Kongsberg Defence Systems
Harald Ånnestad, President, telephone +47 920 60 087
Eirik Lie, Executive Vice President, telephone +47 917 04 933.
Indra Navia
Eldar Hauge, President, telephone +47 907 53 975
Andrew Paul Fiamingo, Direktør Sales and Marketing, telephone +47 971 67 361