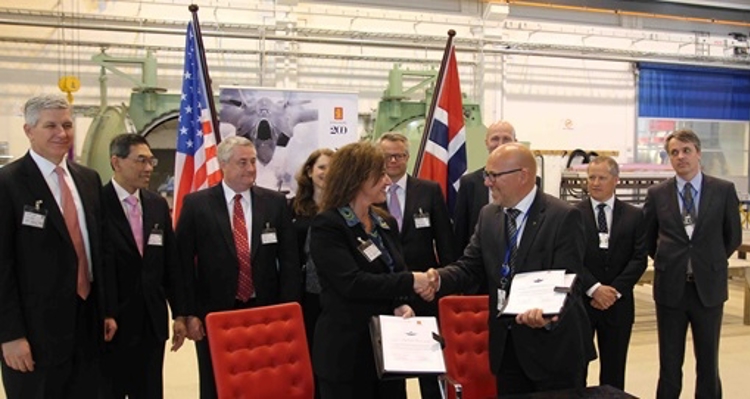 The contract is a continuation of deliveries from the five previous production lots (LRIP 3-7) and supports the continued business relationship between KONGSBERG and Lockheed Martin.
"We are pleased that we reached an agreement for additional vertical tail leading edges and rudder components for the F-35 Lightning II and it is a testament to the continuing long-term international cooperation between Lockheed Martin and KONGSBERG," said Susan Ouzts, Lockheed Martin vice president, F-35 International Programs. "KONGSBERG continues to demonstrate the high levels of technical and manufacturing sophistication that are required to compete for work on the F-35, and we expect more F-35 industrial participation for Norway as we continue to move through the Low Rate Initial Production (LRIP) phases."
"This contract demonstrates KONGSBERG's continued competitiveness of high end manufacturing and represents a new significant milestone for our aerostructures business. We are pleased to be a supplier of quality products to the F-35 program, supporting the continuation of our long term cooperation with Lockheed Martin", said Terje Bråthen, Executive Vice President Aerostructures, Kongsberg Defence Systems.
The contract includes deliveries to about 40 aircraft.
For further information, please contact:
KONGSBERG:
Mr Terje Bråthen, Executive Vice President Aerostructures, Kongsberg Defence Systems, Mob (+47) 90557641
Lockheed Martin:
Ms. Laurie Tortorello, F-35 Communications Manager, Lockheed Martin, Mob +1-817-899-8153, or