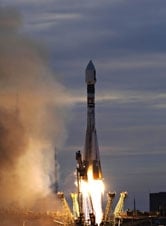 Following a successful launch, ESA's Venus Express space probe is now on its way to Venus. Kongsberg Defence & Aerospace supplied the mechanisms that rotate the huge solar panels on the Venus Express that provide power to all the instruments on the probe. The unit is called the Solar Array Drive Assembly (SADA).
The countdown ended with the launch at 04.33.34, Norwegian time, on 9 November 2005. That was when the Soyuz/Frigat booster rocket carrying the Venus Express lifted off from the Baikonur cosmodrome in Kazakhstan. This is the first European probe being sent to explore our closest neighbouring planet.
Roughly two hours after the launch, ESA's the European Space Operations Centre (ESOC) in Darmstadt, Germany, established contact with the Venus Express. All systems were A-OK.
The Venus Express is scheduled to reach Venus on 11 April 2006.
Read more about the Venus Express on the Norwegian Space Centre's website (Norwegian)
Read more about the Venus Express on the European Space Agency's website