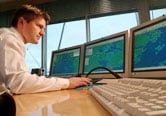 Kongsberg Defence & Aerospace AS has acquired 100 per cent ownership of Norcontrol-IT AS through the purchase of two-thirds of the shares from Kongsberg Marine IT and the remaining third from minority shareholders within the enterprise.
Norcontrol-IT is a market leader in maritime surveillance, with more than 100 installations worldwide. Altogether, the company has 70 employees. The main office in Horten has 35 employees, while the remainder work for subsidiaries in Singapore and Great Britain, among other places.
The company will remain a separate private company under Kongsberg Defence & Aerospace AS. The company's operations will be integrated into a newly established division, Land Systems & Surveillance, that makes maritime and land-based surveillance systems for civilian, military and other public installations at the national and international levels.
"Norcontrol-IT's market position and range of products constitute a very important contribution to our efforts in this field and will help ensure that we enter this arena with a strong market position", comments Odd Kyllingmark, executive vice president of the new Land Systems & Surveillance Division of Kongsberg Defence & Aerospace AS.