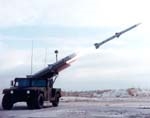 Kongsberg Gruppen ASA (KONGSBERG) and the Raytheon Corporation have signed an updated, prolonged agreement to co-operate on anti-aircraft systems. The companies signed a 10-year strategic co-operation agreement in 1996. That agreement dealt specifically with the sale of HAWK and Surface Launched AMRAAM (SL-AMRAAM) anti-aircraft systems on the international market, with the exception of the USA.
The corporations' co-operation has been highly successful. When the agreement was signed in 1996, KONGSBERG indicated that its interest had a potential value of approximately NOK 3 billion. Accumulated new orders for KONGSBERG have accounted for just less than NOK 2 billion since 1996. Most of the contracts have been signed in the past four years. The potential value is believed to have increased significantly as a result of the prolongation of the agreement. This market is expected to continue to flourish in the years ahead, not least since the USA, the world's largest defence market, will now be introducing the SL-AMRAAM.
The agreement that has been prolonged by 10 years now includes the US market, as well as international sales of solutions developed under the US programmes. The agreement strengthens the relationship between KONGSBERG and Raytheon, forming a sound platform for further growth.
The anti-aircraft systems subject to joint marketing are the SL-AMRAAM and the HAWK XXI. Five NATO states have opted for solutions from KONGSBERG and Raytheon, and new opportunities are being pursued actively.