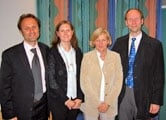 CMM (Capability Maturity Model) is an American standard that gauges an organisation's ability to develop software systems and engage in process improvement work. KONGSBERG's division for Aircraft and Air Defence Systems recently passed the audit for this standard. No other company in Norway has managed to do the same.
The audit team interviewed 46 employees, including project managers, software project managers, development engineers, representatives of special function areas, process groups and line supervisors, distributed over 24 interviews.
Light years ahead
"Both management and the development engineers at Kongsberg Defence and Aerospace, Aircraft and Air Defence Systems, do work that puts the enterprise in a good position for continued success with future projects and business transactions", remarks Peter Isacsson, head of the audit team. Peter has headed many similar audits over the past 10 years. "Kongsberg Defence & Aerospace is light years ahead of most companies in Scandinavia", he adds.
Competitive advantage "Achieving CMM level 3 certification for the entire Aircraft and Air Defence Systems division is a major milestone for the organisation. We believe the work we have invested in achieving this will further improve the efficiency of the KONGSBERG organisation, giving us a competitive advantage and translating into added value for our customers", concludes Odd Kyllingmark, head of Aircraft and Air Defence Systems.