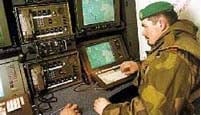 On behalf of CCIS House AS, Kongsberg Defence & Aerospace (KDA) has signed a contract with the Armed Forces' logistics organisation for the development and delivery of information technology related to the modernisation of the Norwegian Army's various leadership and decision-support systems for use in the field (command and control). Valued at MNOK 56, this contract is an extension of one signed previously.
The Norwegian Army and CCIS House AS are at the forefront when it comes to developing automatic leadership systems, and play an active part in international standardisation work. This came to light at a NATO event recently, where the various member states demonstrated their solutions for exchanging information within alliances and coalitions. The new order will give the Norwegian Army the opportunity to introduce these solutions at the tactical level, simplifying the use of the information system in the field and enhancing weapons control for mortars. Delivery is scheduled for autumn 2004.
Over the past few years, CCIS House AS, co-owned by KDA, Thales Communications AS and Ericsson AS, has been in charge of the step-by-step development of K2IS, the Army's new Tactical Command and Control Information System. On behalf of CCIS House AS, KDA has undertaken the main responsibility for the MNOK 56 contract.