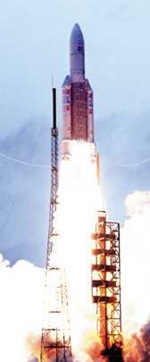 Kongsberg Defence & Aerospace AS (KDA) has signed a contract valued at MNOK 36 with the French company Snecma Moteurs, for the development of mechanisms to unfold the exhaust nozzles on a whole new type of engine for the European carrier rocket, the Ariane 5.
The new engine, which will be fuelled by liquid hydrogen/oxygen, is part of a development programme designed to enable Ariane 5 to carry larger payloads and more satellites at each launch.
KDA's development contract runs until 2005, when serial production is scheduled to begin. The development contract will be followed by series production for the Ariane 5, entailing contracts worth a potential MNOK 200.
"This contract will help build a firm foundation for our aerospace activities. At the same time, it is worth noting that we won this contract against keen competition from seven other European enterprises. We had both the best technical solution and a competitive price", states President Tom Gerhardsen of Kongsberg Defence & Aerospace.
KDA has been involved in the Ariane 5 programme run by the European Space Agency, ESA, for years. Kongsberg`s deliveries have consisted of attachment and separation mechanisms for the two boosters used by the Ariane 5.