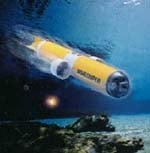 Kongsberg Defence & Aerospace has signed a contract with the Spanish Navy for the delivery of Minesniper one-shot mine disposal system for the destruction of sea mines. "This contract represents an international breakthrough for the Minesniper and is a highly prestigious contract for us", states Marketing Manager Ivar Flage.
"The Minesniper market generally consists of all nations with a navy and with ongoing or planned programs for this type of sea mine destruction. We are working on many exciting projects these days and the UK and Italian Navies are two examples", says Flage. Minesniper will also be marketed as a helicopter based version, and Kongsberg is in the process of making a larger offer to US Navy in co-operation with American industry.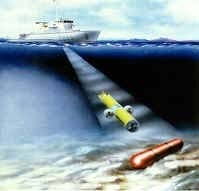 "We are proud to have been chosen by IZAR and the Spanish Navy to equip their vessels. Kongsberg Defence & Aerospace will supply the Minesniper vehicle and the control system that will enable the Spanish Navy to destruct sea mines quickly and efficiently", states Marketing Manager Ivar Flage of Kongsberg Defence & Aerospace.
The system will be deployed on Spanish mine-clearing vessels. Initially, the contract covers two vessels and carries a price tag of roughly MNOK 15. The contract has a potential value of nearly MNOK 70, including options for another four vessels.
The Minesniper is a low-cost mine disposal system based on a remotely controlled submersible vehicle for the efficient identification and destruction of sea mines. Developed in close co-operation with the Norwegian Defence Research Establishment and the Norwegian Navy, the Minesniper is currently deployed onboard one Norwegian mine clearance vessel. The Minesniper is two meters long and weighs about 30 kilograms.
For further information, please contact:
Nils Oddvar Hagen, Executive Vice President, General Manager Naval Systems Kongsberg Defence & AerospaceTelephone: ( 47) 920-60092
Marketing Manager Ivar FlageKongsberg Defence & AerospaceTelephone: ( 47) 930-57228