Waterjet ALUMINIUM SERIES
Kongsberg Kamewa FF-series
Kongsberg is the world leader in research, development and manufacture of waterjets for commercial, naval and pleasure-boat markets. It is also the only supplier in the industry with its own, fully equipped hydrodynamic research centre. The centre continuously develops and tests new products and refines the existing product line.
Kongsberg - the professional supplier
All Kamewa FF series waterjets are produced using the latest 3D CAD/CAM tools to ensure high level of quality and accuracy in design and manufacturing. Kongsberg also utilises its own proprietary, computerised design program, which contains the latest waterjet technology data. combined with the actual results from earlier waterjet installations. Aided by this program, individual influences and the combined effect of all the existing outlet diameters and blade pitch angles will be studied to optimise the performance of every installation. Kamewa FF series sets new standards for small and medium-size applications of waterjets in terms of performance, economy and reliability. Wherever you are, Kongsberg´s global service network will be there to provide extensive through-life support for Kamewa waterjets.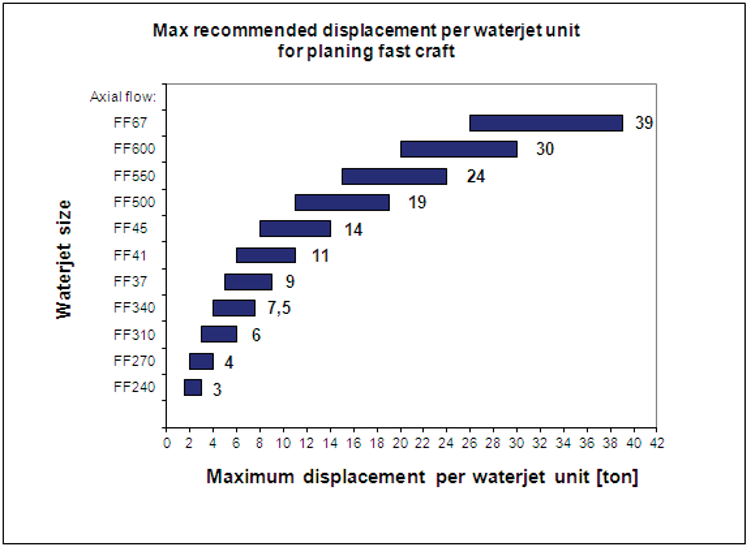 Displacement table
The table should be used for guidance only and based on appropriate hull size and weight ratio and hull lines. Best performance will be achived by selecting a larger waterjet size for craft displacements entering into the shaded area.
The waterjet unit can be installed on both displacement and planing crafts as single, twin, triple or quadruple systems. Displacement hull application require a larger jet diameter than a fast planing hull at same power.
Consult Kongsberg in all cases for a size selection.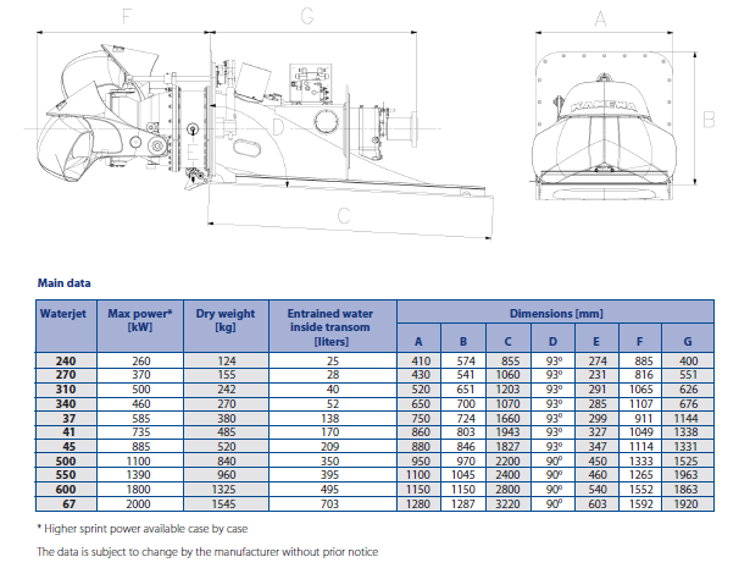 Services and support
24/7 Technical support

Our 24/7 technical support team is there to help at any time, day or night, wherever your vessel is.

Conversions, retrofit and refit

We understand the importance of having the right parts, available in the right place, at the right time.

Training

Ensure that your crew is properly and thoroughly trained. This will reduce operational risk, downtime and maximise return on asset investment.
How can I help you?
Magnus Fahlén
VP Waterjet Sales