Next generation axial flow waterjet
Kongsberg Kamewa A5
Kongsberg is the world leader in research, development and manufacturing of waterjets for commercial and naval markets.
Superior performance and manoeuvrability
The aluminium series waterjet units are manufactured from strong, corrosion resistant materials. Only the impeller, shaft and steering reversing rods are made of stainless steel. All the other components are of aluminium construction based on thorough strength calculations to minimise weight. The completely new inlet duct design is fabricated from aluminium for light weight and optimised for hydrodynamic performance. The new pump is a single-stage axial-flow design providing a high volume flow with superior thrust in a wide speed range.
All aluminium series waterjets can also be supplied as booster units i.e. jet units without steering and reversing components. On delivery, the Kamewa aluminium series waterjets are painted and completely tested with inlet ducts for easy installation by bolting or welding. Including selected control system, built on waterjet. The Kamewa A5 aluminium waterjets are perfect for workboats, patrol boats, pleasure boats, and search and rescue boats – the new A5 will be the best customer choice. The A5 waterjet is an optimal solution for standard application with typical speed range of 25-40 knots. A5-series has a wide range of impellers available for optimal engine and gearbox selection.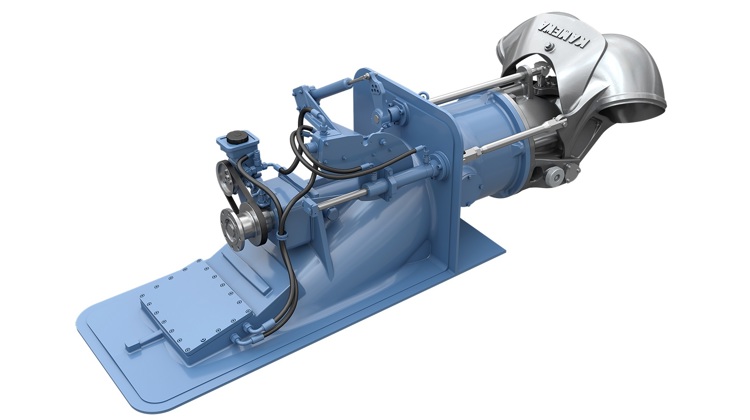 Proven design
Kongsberg waterjet designs and their hydrodynamic performance are proven and verified by our Hydrodynamic Research Centre. The Hydrodynamic Research Centre provides unique opportunities and capabilities to develop, analyse, test and verify waterjet designs. Methods for model testing and CFD analysis have been developed for more than 30 years. International partners have used the facilities as benchmark to their own test methods. Kongsberg is today the only waterjet manufacturer with an in-house capability to perform a complete set of tests and analysis to develop waterjets. Some of these tests cannot be performed elsewhere. The importance of the Hydrodynamic Research Centre for the quality and performance of the Kongsberg waterjets cannot be overstated. It not only lead to state-of-the-art products but also knowledge about their performance and characteristics that is unmatched. This is a significant advantage for all parties, which ultimately prevents issues with performance.
Space Requirement
Installation space of A5 compared to our previous generation series is reduced by an average of 20%, which helps boat builders and designers to minimise engine room space.
Control System
More control system offers are available for the A5 compared to previous series. It comes preconfigured and components are installed and tested in our factory to minimise startup time at the yard.
Performance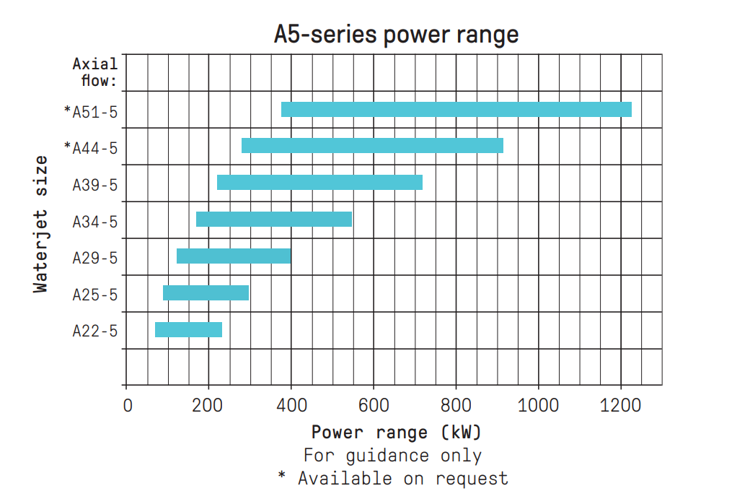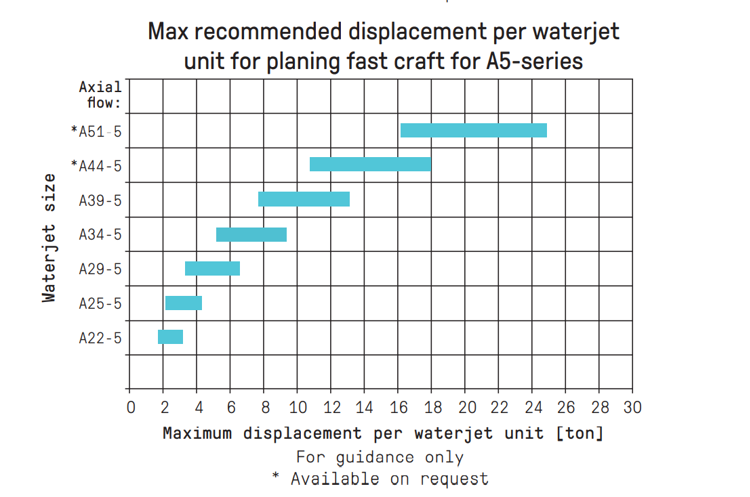 Yard benefits
Clearly improved delivery time
Reduced inboard footprint
Reliable and harmonised design
Simplified and reduced installation time that is built on our proven method of utilising skid mounted jet with fully mounted and tested components in the factory.
benefits for designers
Best in class performance
Simple installation procedure
Performance accuracy
benefits For owners
Efficiency equals less fuel consumption
Standard solutions equals shorter delivery times, installation and design time
Better parts availability
Improved value for money
Lower total cost of ownership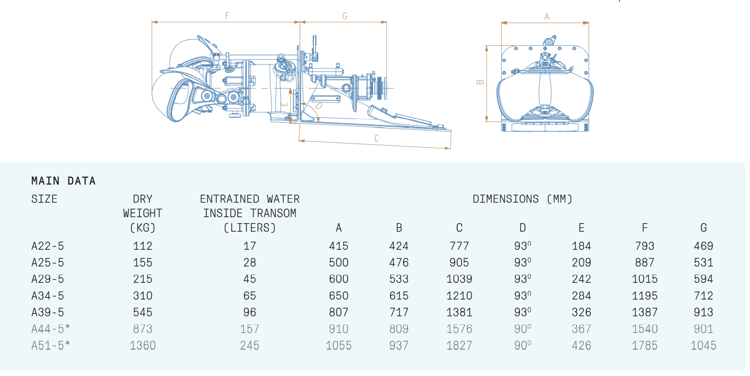 * Available on request
Note: Due to continuous development, some data may be changed without notice.
Services and support
24/7 Technical support

Our 24/7 technical support team is there to help at any time, day or night, wherever your vessel is.

Conversions, retrofit and refit

We understand the importance of having the right parts, available in the right place, at the right time.

Training

Ensure that your crew is properly and thoroughly trained. This will reduce operational risk, downtime and maximise return on asset investment.
How can I help you?
Magnus Fahlén
VP Waterjet Sales