Water in oil sensor
The HUMICAP® Moisture and Temperature Transmitter Series for Oil - MMT330 enables fast and reliable detection of moisture/water in oil. The MMT330 can be used in online moisture monitoring and as a control device, allowing separators and oil driers to be started only when needed. Proper monitoring saves both oil and the environment.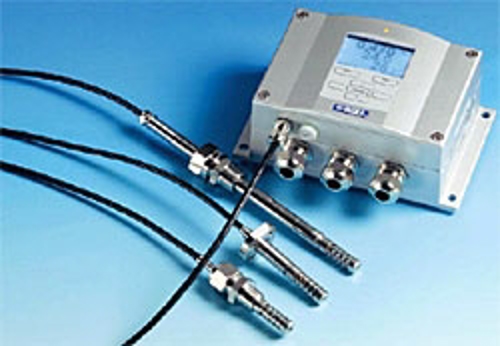 With the MMT330 it is easy and economical to monitor the effects of moisture in oil.
Features
Dual sensor for continuous measurement of moisture in oil and oil temperature
Ball valve installation. No need to shut down the process
Incorporates HUMICAP® Sensor - more than 30 years of field performance
Ten years of experience in measuring moisture in oil
Excellent long-term stability
Easy to calibrate and maintain in the field - compatible with HUMICAP® Hand-Held Moisture for Oil Meter MM70
Calibration certificate to follow each sensor
Reliable HUMICAP® technology
The MMT330 incorporates the latest generation of the HUMICAP® Sensor, which is the result of ten years of field experience. It was developed for demanding moisture measurement in liquid hydrocarbons. The sensor's excellent chemical tolerance provides accurate and reliable measurement over a wide measurement range.
Indicates the margin to water saturation
The MMT330 measures moisture in oil in terms of the water activity and temperature. Water activity indicates directly whether there is a risk of free water formation. The measurement is also independent of oil type and age.
Water content as ppm conversion
In addition to water activity, the MMT330 can output ppm, the average mass concentration of water in oil. This conversion is readily available for mineral transformer oil. For other oils, the oil specific conversion coefficient can be programmed to the transmitter if the water solubility of the oil is known.
Sensor response time
The water in oil sensor element is made of a polymer where water molecules need time to move to and from the polymer according to the water content in the oil. Response time may therefore be up to ten minutes, dependent of the flow speed of the oil.
Services and support
24/7 Technical support

Our 24/7 technical support team is there to help at any time, day or night, wherever your vessel is.

Conversions, retrofit and refit

We understand the importance of having the right parts, available in the right place, at the right time.

Training

Ensure that your crew is properly and thoroughly trained. This will reduce operational risk, downtime and maximise return on asset investment.