Bearing wear monitoring system
KONGSBERG Bearing Wear Monitoring System - BWCM, measures and displays the combined physical wear of crosshead-, crank- and main bearings, providing early bearing seizure warnings if problems occur during engine operation. The sensors are specifically designed to provide reliable and accurate measurements over years of operation inside the engine.
Condition monitoring of crank-train bearings in two-stroke diesel engines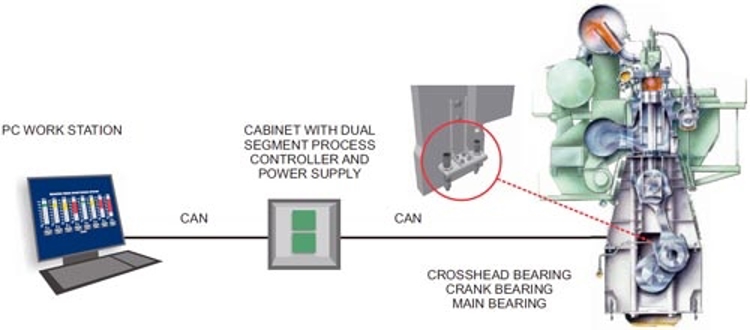 The bearing wear monitoring system uses two sensors mounted in each cylinder compartment, measuring every time the crosshead passes bottom dead centre. These sensors perform individual compensation for engine speed, engine crank case temperature and engine deflections due to vessel manoeuvring or cargo loading.
Avoiding all types of bearing damage
Bearing seizures are known to appear in many different forms and are caused by a wide variety of reasons. Combining the bearing wear monitoring system with KONGSBERG's wireless temperature monitoring system (SENTRY) reduces the risk of bearing damages to an absolute minimum.
Avoiding open up inspection
The Bearing Wear Monitoring System is designed according to the specifications of MAN Diesel and Germanischer Lloyd (GL). The system is one of the required systems in order to avoid open up inspections.
The following systems are part of a class survey arrangement:
Bearing Wear Monitoring System
Water in Oil sensor
Shaft Earthing Device (owner or yard supply)
Computerised Planned Maintenance System (owner or yard supply)
Main benefits
Significantly reduced risk of unforeseeable repair costs
Unique long-term measuring accuracy
Compact and simple installation and cabling on the engine
Stand-alone or fully integrated with the alarm monitoring system
System components
Software & system components are common with the K-Chief 600 marine automation system and the AutoChief 600 propulsion control system, allowing integration and joined support. Data transfer via CAN bus is the base for easy communication with other KONGSBERG systems.
Services and support
24/7 Technical support

Our 24/7 technical support team is there to help at any time, day or night, wherever your vessel is.

Conversions, retrofit and refit

We understand the importance of having the right parts, available in the right place, at the right time.

Training

Ensure that your crew is properly and thoroughly trained. This will reduce operational risk, downtime and maximise return on asset investment.