Propulsion Control System - AutoChief 600
Back in 1967 we developed the AutoChief I, the first remote control system for low speed propulsion plants. By 2019 more than 10 000 remote control systems have been delivered to vessels all over the world, including approximately 6500 AutoChief® C20 and 600 systems.
AutoChief® has become a trademark for safe and efficient propulsion control.
Applicable for
The AutoChief 600 propulsion control system is a complete control and safety systems suitable for all 2 and 4 stroke engines, both fixed and controllable pitch propellers.
The system is available for single and dual propulsion lines. It features a modular design, and can easily be configured for various propulsion configurations. The AutoChief® features the same distributed and fully redundant architecture as our machinery automation systems, with no additional emergency telegraph system required.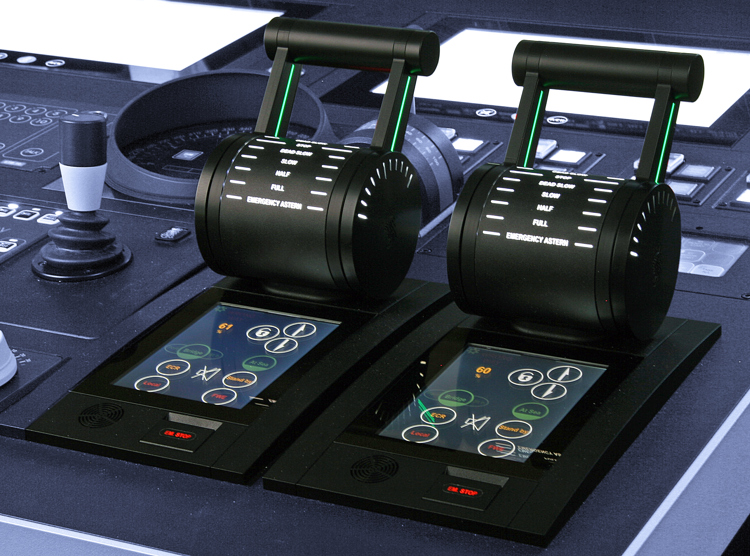 Approvals
Designed in accordance with the requirements of: DNV, LRS, BV, GL, RINA, NK, ABS, KR, RMR, CCS and All low speed engines from MAN B&W, WinGD and J-Eng, Dual Fuel & Single Fuel.
Digital Governor System
The Digital Governor System is both a stand-alone and a fully integrated part of the AutoChief® 600 family.
Main features
Speed order inputs from all control positions
Automatic fuel limiter functions according to main engine builders specifications (scavenge air, torque limiter etc.)
Manual fuel and RPM limiter adjustable from the control panel (chief limiter)
Redundant speed measuring system using inductive speed pick-ups
Limiters can be cancelled from each control position
Self-check functions
Distributed Processing Units
The AutoChief® 600 use Distributed Processing Units installed directly in the junction boxes on the main engine. All signals to and from the engine are transmitted on dual redundant CAN lines (bus on engine).
All nonessential sensors can be shared with the K-Chief 600 alarm and monitoring system, requiring only one interface to the main engine. This principle drastically reduces the installation and cabling cost.
Main features
Dual/redundant field bus (CAN)
Signal interfacing to sensors and actuators
Alarm detection and process control
Time stamping of alarms and events
Direct mounting on engine is possible
Design focused on EMC compatibility
Engine Safety System
The Engine Safety System is both a stand-alone and a fully integrated part of the AutoChief® 600 family.
Main features
Separate overspeed detection system
Automatic shutdown of main engine, both cancellable and non-cancellable, will stop the engine by activating solenoid valves. The sensors may be analogue or digital
Four dedicated shutdown inputs with backup and double power supply
Separate emergency stop system with full loopfail detection and redundant power supply
Automatic slowdowns, both cancellable and non-cancellable, reduces engine speed to a safe level if technical problems on the main engine arise
Engine RPM detection system with two independent systems, including automatic change over
RPM indicators on redundant CAN network
All sensors and valves are monitored for cable failure
Settings may be altered and values may be inspected on any control panel
Redundant power supply
Services and support
24/7 Technical support

Our 24/7 technical support team is there to help at any time, day or night, wherever your vessel is.

Conversions, retrofit and refit

We understand the importance of having the right parts, available in the right place, at the right time.

Training

Ensure that your crew is properly and thoroughly trained. This will reduce operational risk, downtime and maximise return on asset investment.