PowerAllocator TM
Energy Solutions is a collection of general, standardized electrical power system architectures, designed to provide customers in the marine segment with integrated digital, reliable and cost-effective energy solutions.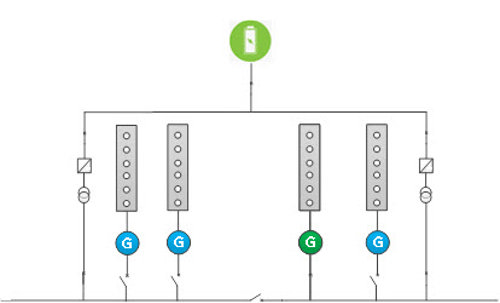 Our mission is to help our customers lower the lifetime cost and emissions while maximising their investment in power systems. The PowerAllocator™ is a novel, patent pending Energy Storage Solution that will supply and optimally allocate power between redundancy groups from a single, autonomous battery system.
Our PowerAllocatorTM offers significant fuel efficiency gains, reduced emissions at reduced cost, space, weight and complexity compared to conventional energy storage solutions.
The PowerAllocator™ constitute a new redundancy group that is autonomous from all main redundancy groups with regards to failures and propagation under IMO equipment DP class 2 (DP2) and 3 (DP3).
The PowerAllocatorTM allows the engines to run at increased fuel efficiency and enables full flexibility in power system setups. The energy storage is available for spinning reserve and power peak load smoothing for all main redundancy groups in both open and closed bus operation.
The PowerAllocator™ allows for less installed battery capacity reducing the CAPEX when compared with conventional setups where an energy storage system is installed in each redundancy group.
DESIGN FOCUS
Reducing the engine running hours in DP operations by up to 50%

Producing power more efficiently with remaining engines
BENEFITS
DP operations with one (1) or two (2) engines

Reduced operational costs

One (1) common battery, hence optimizing the installation space

Increased engine efficiency

Always connected – No operator intervention is required in changing modes or conditions

Load transfer via DC-link enabled
SUITABLE FOR:
Vessels classed with open or closed bus operation
Services and support
24/7 Technical support

Our 24/7 technical support team is there to help at any time, day or night, wherever your vessel is.

Conversions, retrofit and refit

We understand the importance of having the right parts, available in the right place, at the right time.

Training

Ensure that your crew is properly and thoroughly trained. This will reduce operational risk, downtime and maximise return on asset investment.