K-Chief Power Management System
(PMS)
K-Chief Power Management System (PMS) is applicable for all ships from the simplest vessel to the most advanced drill-ships and complex offshore installations.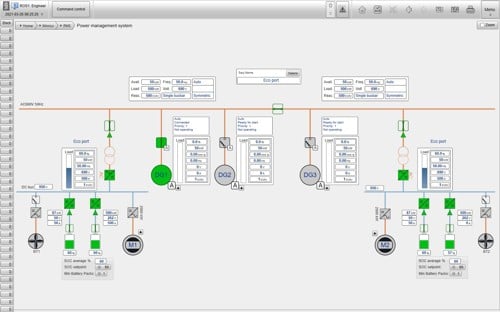 The K-Chief PMS is a flexible system designed to handle both conventional marine power plants for merchant and diesel electric vessels as well as complex high voltage systems for offshore vessels. It can easily be integrated with the K-Pos system.
K-Chief PMS will cover all class related requirements and contains all basic functionality for a safe operation. It can be part of a total Energy Control architecture, which again contains several layers and strategies for optimal efficiency.
Purpose built equipment for engine control and safety and for generator control and protection are available.
Load control with ramp function, Engine governor / AVR failure detection with quick load reduction and trip, Engine / Bus –tie Trip Detect with quick load reduction, Bus-tie current compensating functions and advanced integration with Energy Management System for optimal control of electric propulsion plants are some of the functions which are available.
To be able to operate more efficient and safe, the Advanced Generator Supervisor (AGS) system is an add on feature to the Power Management System to detect failures in the generators speed and voltage control system. The faulted generator will be tripped to prevent the fault from escalating into a critical situation or blackout. This will increase the safety level when the power plant is run with closed bus ties.
The smart zone protection can also be included in the AGS, it is a separate function which will trip bus tie breakers when the diesel generators have reached the limits on low / high reactive power (kVAR), active power (kW) or low bus frequency.
Services and support
24/7 Technical support

Our 24/7 technical support team is there to help at any time, day or night, wherever your vessel is.

Conversions, retrofit and refit

We understand the importance of having the right parts, available in the right place, at the right time.

Training

Ensure that your crew is properly and thoroughly trained. This will reduce operational risk, downtime and maximise return on asset investment.