Hybrid shaft generator
(HSG)
The Hybrid Shaft Generator (HSG) drive provides electrical power to the vessel's main swithboard by converting variable voltage and frequency input to fixed voltage and frequency output.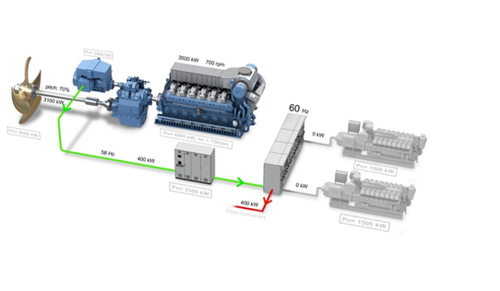 This allows the main engine and propulsion systems to operate at variable
speeds – including at optimal engine speed and propeller pitch – without
affecting the availability of electrical power on the vessel.
When it is able to operate at optimal engine speed and propeller pitch, a
vessel sails more efficiently (using less fuel) and smoothly (with minimum
propeller vibrations, which cause wear and tear).
By enabling the vessel to sail in this way, the HSG drive reduces fuel
consumption and emissions, and – by reducing vibrations – it also
reduces the cost of maintenance to the propulsion system.
Extra power or propulsion.
Technical highlights
Based on

SAVe

+ LINE propulsion drive series

Liquid cooled

Degree of protection: IP54

Internal air-liquid heat exchanger

No internal-external air exchange (suitable for harsh environments)

Separate cable termination section

Modular design

Redundant cooling pumps

Simplified interfaces to external control systems

Prepared for remote access

Applicable to both new-builds and

retro-fits

Suitable for implementation in all categories of propulsion systems:

Synchronous (incl. PM) and asynchronous shaft generators

Geared and inline generator integration

Low-, medium- and high-speed main engines

Fixed and controllable pitch propellers
The main benefits
Fuel savings of up to 30%

Smaller environmental footprint

Safety and comfort

R

educed vibrations

Reduced maintenance

Reduced noise
Services and support
24/7 Technical support

Our 24/7 technical support team is there to help at any time, day or night, wherever your vessel is.

Conversions, retrofit and refit

We understand the importance of having the right parts, available in the right place, at the right time.

Training

Ensure that your crew is properly and thoroughly trained. This will reduce operational risk, downtime and maximise return on asset investment.