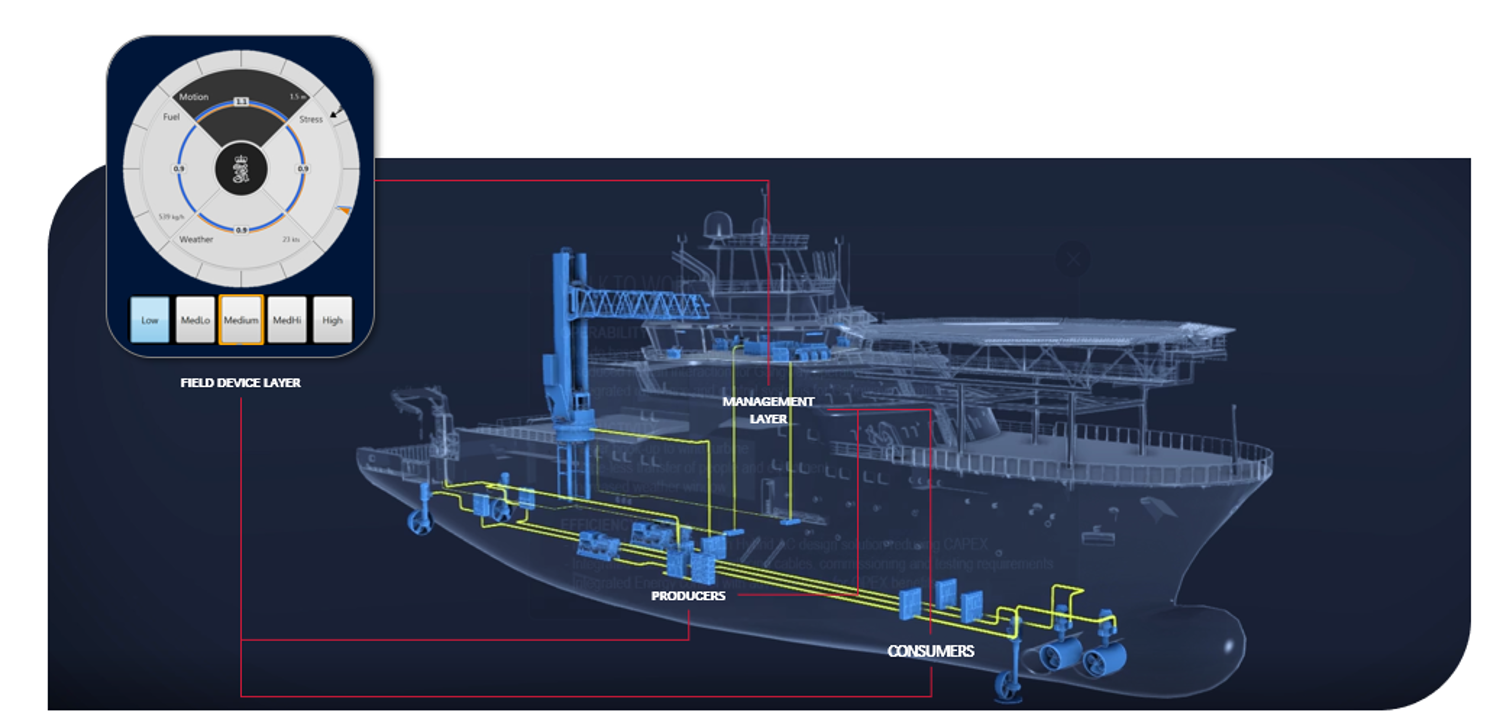 Energy Management System
(EMS)
Energy Management System (EMS) is applicable for every application from the simplest vessel to the most advanced drill-ships and for complex offshore installations that requires intelligent efficiency control.
The Energy Management System is a flexible system designed to handle both conventional marine power plants for merchant and diesel electric vessels as well as complex high voltage systems for offshore vessels. It can easily be integrated with the K-Pos system.
The various vessel types will consist of a variety of electric power solutions. The control principles have traditionally been limited to the actual possibilities and not for an intelligent and dynamic energy control system. To support this an Energy Management System application is available. It assists with setting up sufficient vessel responsiveness during different operation modes with focus on Eco-friendliness (fuel, emissions, battery support, etc.), manoeuvring capability, station keeping precision and minimising mechanical wear and tear.
The Energy Management System application uses systematic methods to measure, register and analyse the energy usage of vessels in specific operation modes and is prepared for the futuristic requirements of intelligent efficiency. The objective of such a concept is to maximize the useful work obtained from the minimum amount of generated energy within the allowed regulations. Based on this objective an Energy Control System (ECS) layer has been introduced to integrate the Energy Management System application with the Power Management System and K-Pos or heavy consumer controllers.
In Battery Hybrid Power Plant control the EMS optimizes the battery charging/discharging and load sharing with other power producers. Integration with K-Pos DP or other heavy consumer controllers opens the possibility for using energy control functions for power set point feedforward, power ramp control etc. This creates a unique set of applications build into the energy control layer to optimize the performance of the power plant.
Services and support
24/7 Technical support

Our 24/7 technical support team is there to help at any time, day or night, wherever your vessel is.

Conversions, retrofit and refit

We understand the importance of having the right parts, available in the right place, at the right time.

Training

Ensure that your crew is properly and thoroughly trained. This will reduce operational risk, downtime and maximise return on asset investment.