K-NAV standalone navigation products
K-Nav is a family of standalone navigation products tailored to meet statutory requirements from IMO/SOLAS and maritime flag states. The family includes certified RADAR, ECDIS, and Autopilot systems along with the navigation sensors required by these systems. It also includes Planning Station and Conning systems.
K-Nav products are equally suitable for newbuilds and aftermarket (retrofit, refit) installation. They are backed by KONGSBERG's global 24:7 support network.
Design
Developed by users and human factor specialists, K-Nav products have been designed to support critical decision making by professional navigators.
Sensor interface
K-Nav products use a traditional sensor interface solution based on serial connection from each sensor to each operator station. A standardized sensor set-up – with dedicated ports for the respective sensors – ensures efficient configuration and installation.
Radar signal distribution
K-Nav Radar uses a high-speed network for collecting radar signals at the transceiver and distributing them to the display unit: a radar interface (RIN) unit converts analog radar signals to digital signals at the antenna location and sends them to the display unit over the network. Processing of the video, including target tracking, is performed locally by the display unit, and filtering is also applied locally to give the operator full control over the displayed picture.
Optional inter-switching capabilities are available to allow different display units to access radar data from any antenna over the network. This option provides fault tolerance with respect to signal processing.
To enhance radar performance and avoid blind sectors, an additional option permits video from up to four radars to be displayed simultaneously in a composite radar picture. In such a composite picture, targets are automatically tracked across the boundaries between the sectors from each radar.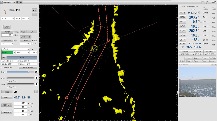 K-Nav ECDIS
The K-Nav ECDIS continuously monitors the ship's position against the voyage plan. The plan can be defined at the K-Nav Planning Station or the ECDIS itself.
K-Nav ECDIS can show radar video from selected radars – in addition to radar and AIS targets – as an overlay to the chart. NAVTEX messages referring to specific positions appear when the ship is in the area relevant to them.
K-Nav ECDIS accepts all chart formats required by the IHO.
K-Nav Planning Station
The K-Nav Planning Station is a "back-office" station designed for chart maintenance and voyage planning. It provides standard ECDIS functionality – including route planning and validation – but on a desktop Panel PC.
K-Nav Conning
K-Nav Conning display collects sensor input, rudder and propulsion feedback, steering and other orders (if available) from multiple vessel systems and instruments and presents them conveniently on a single display. It can also display CCTV from cameras mounted around the vessel.
Conning data is displayed on and around a representation of the own-ship that shows the location and status of the thrusters and rudders.
K-Nav Autopilot
K-Nav Autopilot is a heading control system that provides optimal steering under different vessel loads and, in all sea, and weather conditions. It can be operated in both precision and economy modes.
The autopilot user interface is provided by means of a dedicated operator unit. This is connected to a controller cabinet running sophisticated software for performing adaptive automatic steering of the vessel.
The K-Nav Autopilot learns, mainly during the sea-trial phase of its installation and configuration, how the vessel reacts to different rudder commands. Then, when it is controlling the vessel on real voyages, it uses this information to steer as smoothly and comfortably as possible in the given sea conditions.
Kognifai Connect
The optional Kognifai Connect unit provides automatic chart updates over a secure ship-to-shore service connection. The unit comprises a Malware Protection System (with rugged touch-control display), a Cisco router, and a type-approved marine computer.
Main features
ECDIS
RADAR
Adaptive Autopilot (HCS)
Planning
Conning
Main benefits
Modular family of cost-effective statutory navigation products
Complementary operator controls and consoles
Direct sensor interface
Simple installation and commissioning
Networked data sharing within product family
Designed to combine with 3rd party equipment
24:7 global support
Services and support
24/7 Technical support

Our 24/7 technical support team is there to help at any time, day or night, wherever your vessel is.

Conversions, retrofit and refit

We understand the importance of having the right parts, available in the right place, at the right time.

Training

Ensure that your crew is properly and thoroughly trained. This will reduce operational risk, downtime and maximise return on asset investment.