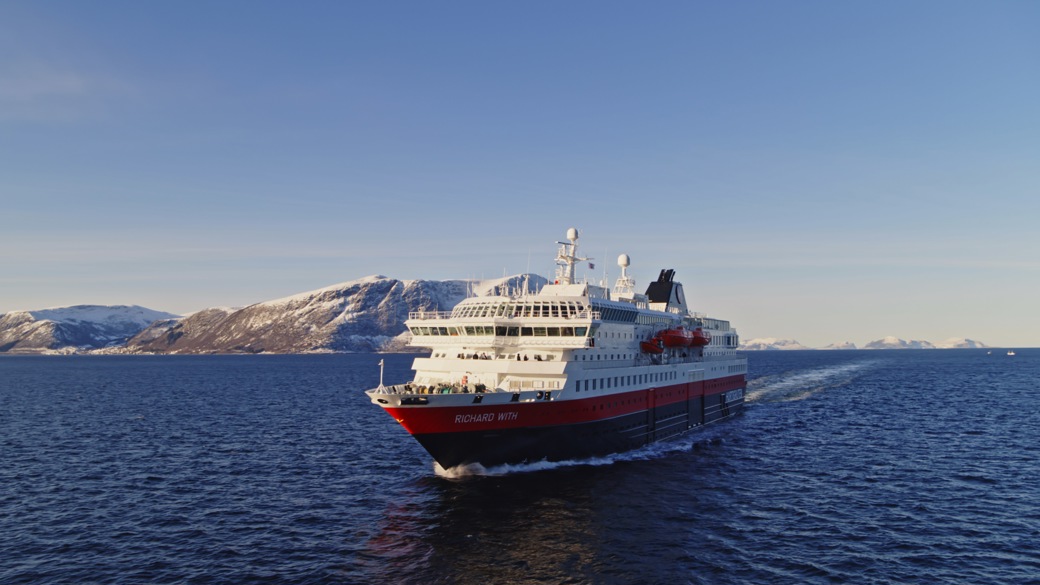 First retrofit delivers 23% emissions cut
Kongsberg Maritime is transforming Hurtigruten's Norwegian Coastal Express, retrofitting Hurtigruten's fleet with modern technology that improves safety, operations, and sustainability.
Last year, we announced an ambitious joint project between Kongsberg Maritime, Myklebust Verft and Hurtigruten Coastal Express, in which we would be converting existing passenger vessels to hybrid technology. The first retrofit is complete and MS Richard With is already delivering a 23 per cent reduction in emissions, with that figure expected to rise further. In this article, we look at how this successful outcome was achieved.
The project to upgrade Hurtigruten's Coastal Express passenger vessels is one of the largest of its kind in Europe.
Inspired by Hurtigruten's determination to reduce CO2 emissions from its coastal fleet by at least 25 per cent, the project is a partnership between Hurtigruten, Kongsberg Maritime, and Myklebust Verft.
It was first announced in spring 2022 and the first retrofit has been completed since. MS Richard With is in full operation along the Norwegian coast, delivering not only emissions reductions but also crucial data about the success of the project and its implications for the future.
The project to upgrade Hurtigruten's Coastal Express passenger vessels is one of the largest of its kind in Europe.
How Hurtigruten cut emissions and extended vessel service life with Kongsberg Maritime
Inspiration and motivation – improving sustainability
Hurtigruten and KONGSBERG have been working together for around 20 years. "They are a good match for us," says Kongsberg Maritime President Lisa Edvardsen Haugan. "We share goals.
"They want to be the world's leading sustainable travel provider. We want to create and enable technology for sustainable ocean operations."
Hedda Felin, Hurtigruten CEO, shares that view and highlights the maritime travel industry's responsibilities in that area.
"Our industry is too slow in its transition to green energy," she says. "The future of maritime tourism and transport needs to be sustainable.
"We have built our last fossil fuel ship for the Norwegian Coastal Express. We are working to design ships with CO2 emissions in mind. But it's important to start with ships in operation today."
That process began with the contract between Hurtigruten, Kongsberg Maritime and shipbuilding partner Myklebust Verft to upgrade three coastal ships.
"It was the right way to deliver this project," says Geir Oscar Løseth, Kongsberg Maritime's Vice President of Sales Aftermarket Advanced Offerings. "By collaborating, we complement each other to deliver the result our customer wants."
"Throughout the tender process, we spoke about what Hurtigruten needed and how we could achieve it. We had clear tasks: improved capability, stronger wind resistance and, of course, 25 per cent reduction in emissions."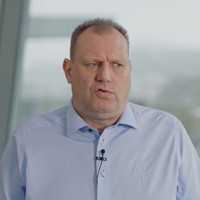 That collaboration was also important for shipyard partner Myklebust Verft.
"A 30-year-old vessel needs special considerations," says Lars Conradi Andersen, former CEO at Myklebust Verft. "We had to meet specific challenges and find very quick solutions.
"The combination of KONGSBERG's expertise in equipment, design and engineering, and our expertise in production was very solid. All the obstacles we met during the project we solved together."
The success of the project also relied on input from the customer, achieved through the same close collaboration.
"Throughout the tender process, we spoke about what Hurtigruten needed and how we could achieve it," says Geir Oscar. "We had clear tasks: improved capability, stronger wind resistance and, of course, 25 per cent reduction in emissions."
Assessing the scope of the project
With the project awarded, Kongsberg Maritime started gathering data from Hurtigruten's existing fleet. That meant examining hull design, power systems, digital controls, engine-on propulsion and more.
"We have multiple competencies in the different elements that are important for an upgrade like this," says Geir Oscar. "We have strong skills in structure, in propulsion, in automation and control. And we're the best in the world at combining those skills to achieve customer requirements. Hurtigruten's 30-year old vessels will have another 10 to 20 years of service life, thanks to the refit programme by Kongsberg Maritime
"Our experts have the design and engineering expertise, product and domain knowledge, project lists and advanced computational and design tools to identify, develop and implement the right solutions.
"That goes hand in hand with analytics and calculations covering everything from fuel consumption to the operational profile of the vessels. With those tools we can accurately predict potential savings and project outcome."
Making the decision to invest
Given the global climate at the time the project was being considered, Hurtigruten didn't enter this project lightly.
"Taking the decision to invest €100 million in upgrading our existing fleet in the middle of the pandemic was tough," says Hedda Felin.
"We had no guests and a great deal of financial uncertainty. But I'm very pleased with the decision we made.
"We had the opportunity to upgrade the interior of the fleet and give the ships the best of today's technology. Plus, it's more environmentally friendly to retrofit a vessel than to scrap and build a new one.
"So from a sustainability point of view, and from the economic point of view of keeping very robust ships in the fleet for 10 to 20 years longer, this was the right thing to do."
Geir Oscar agrees, adding: "From a wider perspective, the upgrade is also a much quicker way to meet the requirement. We can do the full turnover of a vessel in four or five months. An entirely new build takes much longer time.
"We're already at the stage where the first and second vessels are ready."
Progress to date
The first of the three ships included in this project, MS Richard With, is already seaborne again and delivering beyond expectations.
The vessel has been fitted with two hybrid shaft generators, two SaveEnergy 1.120kWh lithium ion batteries and two new Bergen B33:45V engines. It also has new tunnel thruster motors and propeller blades.
On the control systems side, the team has installed the KONGSBERG digital management system, which includes health monitoring, and SaveCube integrated drive switchboards, including frequency converters, drives and DC system.
"It's a modern, cleaner hybrid system, performing with multiple redundancies and multiple system integration," says Geir Oscar. "We've achieved emissions reductions of up to 23 per cent, and we expect to see that increase. The refit programme included a modern hybrid system, new propellers, and systems integration, allowing for emissions reduction and a more comfortable passenger experience
"The vessel is also safer and smoother in the water. It gives the crew several layers of reassurance. They can do full battery, zero emission operation; they can run on auxiliary engines and they can run on normal engines. So there's a high level of safety that meets the new requirements for lower-emission travel along the coast."
For Hurtigruten, the investment has been money well spent. "We are very pleased with the results of the upgrade," says Hedda. "Our ship now has dramatically reduced fuel consumption, which we actually expect to reduce even more as we gain experience and get into a good rhythm and routine.
"It's also significantly quieter, which is a benefit for both guests and crew. Everyone can now experience the world's most beautiful voyage in a much more silent way."
Looking ahead
The learnings and data collected in the first phase of the project will, it's thought, contribute greatly to the implementation and future results of the retrofit on the remaining two vessels.
"We need to follow the learning curve to get those most out of the upgrade from an operating perspective," says Geir Oscar. "That means upgrading people, not just technology.
"It's important that we work tightly with Hurtigruten to deliver the best operational performance. That means good communication and training with the crew, and analysis of the data this first ship provides. The results we have already achieved will continue to increase alongside the crew's understanding of how to operate it in the best way possible."
For Mykelbust Verft, too, the learning curve has been vital for future planning. "The primary gain here is experience – learning how to solve issues and deliver this kind of project," says Lars Conradi.
"There is a major need to carry out improvements on existing vessels if we are to reduce emissions and have vessels that are prepared for the future."
Lisa Edvardsen also acknowledges the importance of this project, pointing out its implications for the future of the whole maritime industry. "The main challenge for the industry today is sustainability; it's navigating this landscape of new regulations put forward by the IMO," she says.
"Our role is going to be to guide customers through this transition, with advisory services as well as the products and solutions that will make sure regulations are met. But we won't do that simply by coming up with new products and solutions. We also need to look into existing fleets.
"KONGSBERG has equipment on more than 33,000 vessels – more than one third of the IMO registered fleet. Over decades we have gained a deep understanding of maritime operations, and we are extremely well-positioned to play our part in transforming the maritime industry. In fact, as a technology provider, it's our duty to support the journey towards zero emissions and to develop the technology and solutions that will solve sustainability problems – both now and in the future." Cut emissions and improve operations
Find out how Kongsberg Maritime can help extend the life of your fleet with our conversion and refit service