e-navigation
Kongsberg Norcontrol enables VTS and coastal authorities to become e-navigation maritime service providers by offering off-the-shelf and customized solutions, as well as the platform and applications through which to deliver.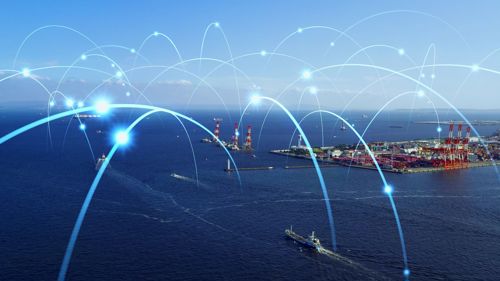 According to the IMO's Strategy Implementation Plan for e-navigation, the digital infrastructure and information provided by e-navigation is expected to improve maritime safety, increase security, better protect the environment, reduce administrative burden and increase efficiency of maritime operations. Additional benefits include the reduction of VHF communications, decreased workload both onboard and ashore, and the enabling of future innovations in autonomous vessels.
We help port and coastal authorities to realize the benefits that digitalized maritime services can bring to operations, be it delivering critical safety information directly to bridge systems, providing ships the means to report automatically and electronically, or planning a port arrival that is coordinated with berth availability and arrival service providers.
We deliver safer navigation, efficient operations and cleaner oceans.
Our services
Route Sharing

Enables authorities to receive and send routes to ships
It is fundamental to every other e-navigation services

Navigational Warnings

Provide warnings by sharing predicted close quarter situations, predicted areas of congestion, restricted area notifications and several other alerts

VTS information & Maritime Safety Information

Publishes information about the traffic situation in a VTS area, including Navigational Warnings and Area Warnings (MSI)
Information in the form of symbols and shapes sent to subscribing vessels, reducing the risk of misunderstanding

Automated Mandatory Ship Reporting – Solution 2

Receives MRS/SRS reports sent automatically and electronically by participating vessels, freeing VTS operators from the need to manually input
Reports are presented in the C-Scope Management Information System and can be integrated with a Maritime Single Window solution

Collaborative Just-in-Time Arrival

Enables VTSOs, pilots, tug operators and other service providers to collaborate during the arrival process in real time on smart devices
Ensures that when a vessel is assigned an Just-in-Time arrival slot, all service providers share the same situational awareness and know each other status
NavElink
Kongsberg Norcontrol will enroll your organization and publish your services on Navelink, a digital platform for the exchange of maritime information ship to shore. Find out more about Navelink at Navelink.org
Contact us to learn more