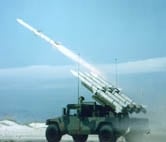 Kongsberg Defence & Aerospace AS has signed a contract with Raytheon for efforts supporting the U.S. Army SLAMRAAM Program.
KONGSBERG is subcontractor to Raytheon for the U.S. Army SLAMRAAM Program, and responsible for the delivery of command and control software components to the System Development & Demonstration (SDD) Phase running up to mid 2007. The software components are part of the Integrated Fire Control Station (IFCS) for the SLAMRAAM Battle Management Command and Control system
Since KONGSBERG and Raytheon introduced an exclusive international partnership in 1996, five NATO nations have chosen air defence Battle Management Command and Control systems from KONGSBERG and Raytheon. The U.S. Army awarded the Raytheon-led Team SLAMRAAM a $127 million contract in February of 2004 to design, develop, manufacture and integrate the joint U.S. Army/U.S. Marine program.
The first KONGSBERG contract for the Surface Launched AMRAAM air defence system was signed with the Royal Norwegian Air Force in 1989 through the NASAMS program.