Retractable azimuthing thruster
The retractable azimuth thruster range provides extra thrust and manoeuvring, while adding no draft and minimal hydrodynamic resistance when the thruster is not in use.
OUR RETRACTABLE THRUSTERS ARE AVAILABLE IN 3 TYPES

Our product range includes wide range of retractable thrusters, which offer a perfect propulsion solution for any vessel with enhanced manoeuvring and dynamic positioning requirements. In total three product families of retractable thrusters are available, ranging from compact ULE PM type thrusters to very powerful L-drive ULE units and back to versatile Z-drive UL units.
The benefits of retractable thrusters
• Improved manoeuvring and DP capability
• Combined steering and propulsion at low speed
• Minimal draft and hydrodynamic resistance
• Provides added redundancy and "take me home"-capability to the vessel, in case of issues with the main propulsion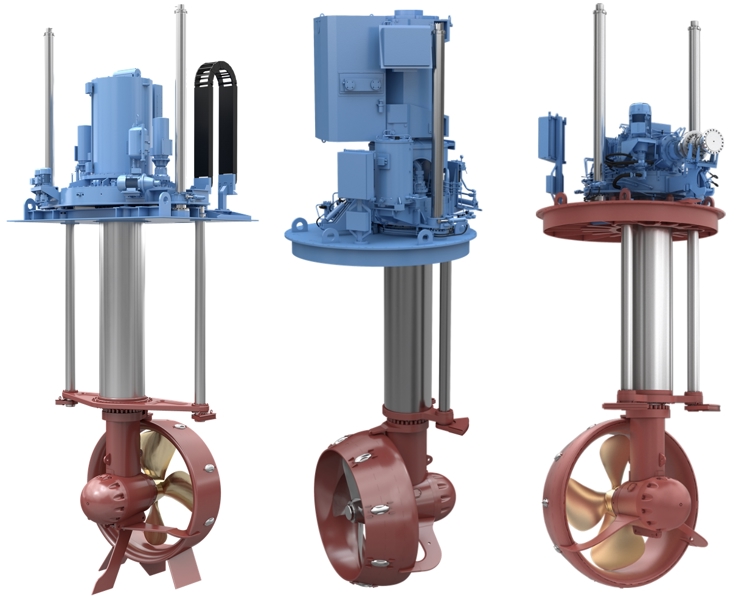 From left to right: ULE PM, ULE and UL thrusters
TYPE ULE PM
The most compact and high performing retractable thruster on the market

The ULE PM type retractable thrusters represent a new generation of retractable thrusters which are very compact in size, while having unparalleled efficiency, allowing even the small thrusters to deliver the required thrust and manoeuvring capability.
ULE PM type azimuth thrusters have a unique design where an integrated electric prime mover is mounted very low between the steering gear resulting in the markets lowest retractable unit for given unit size, with the units saving more than a meter of vertical space compared to a traditional retractable thruster design.
ULE PM Combi
All ULE PM type thrusters are also available as a combi unit, which feature optimized drivetrain and hydrodynamics for high thrust and fast response time. Both, while operating in tunnel as a tunnel thruster, and as azimuth thruster for manoeuvring or dynamic positioning.
• Market leading thrust per thruster size through patent pending hydrodynamic innovations, optimized design, and integrated PM-motor
• Minimal installation footprint and height requirement achieved through new mechanical layout
• The ULE PM Combi provides the performance of an azimuth thruster and tunnel thruster with the investment and installation volume of a single thruster
• Simple installation with clear interfaces to vessel
• Easy maintenance through reduced number of components and accessible service locations
TYPE ULE
ULE type thrusters represent the complete range of L-drive retractable thrusters. The ULE type thrusters are a very versatile solution with the installed units being found from small cargo vessels up to worlds largest jack up type wind turbine installation vessels.
• Complete range of different unit sizes available
• High efficiency from L-drive configuration
• Units can be configured as combi thrusters
TYPE UL
The Z-drive UL type retractable azimuth thrusters offer the solution for rugged and simple propulsion with minimal vertical space requirement. The unit features a clutch and an input shaft decoupling system which allows the unit to be driven directly by a fixed horizontally mounted prime mover such as a diesel engine, or an electric motor. For rugged standalone installation the units can be configured with inboard belt driven auxiliaries.
• Minimal vertical space requirement
• Unit can be directly coupled to a prime mover such as diesel engine
• Rugged standalone installation
Services and support
24/7 Technical support

Our 24/7 technical support team is there to help at any time, day or night, wherever your vessel is.

Conversions, retrofit and refit

We understand the importance of having the right parts, available in the right place, at the right time.

Training

Ensure that your crew is properly and thoroughly trained. This will reduce operational risk, downtime and maximise return on asset investment.