Azipull thruster
Proven high propulsive and hydrodynamic efficiency
Since its introduction in 2003, we have delivered over 600 Azipull thrusters
The Azipull thruster is an azimuthing and pulling thruster with the propeller in front of the gear housing, providing the following advantages:
The propeller's location ensures uniform water flow, which is ideal for a propeller designed for high efficiency, low pressure excitations on the hull and low underwater noise
A slender shape is possible using high precision gear wheels, this minimises hydrodynamic drag
A tail fin increases the rudder effect and reduces course correction losses while in transit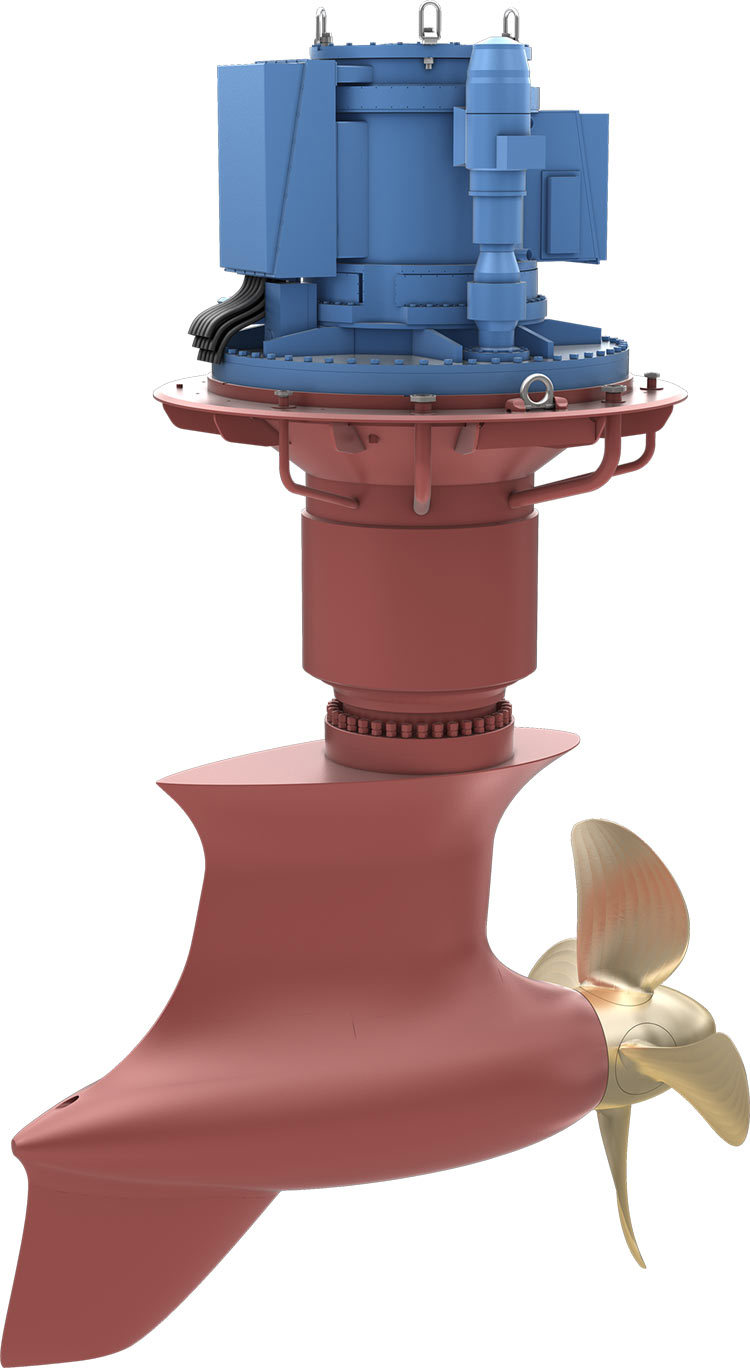 Main Features
Highly efficient pulling thruster
Available in L- or Z-drive configurations
Z-drive version available with Twin/Dual Hybrid options
Available with CP or FP propeller
Main Benefits
High torque density
L-drive reduces shipyard installation time and footprint compared to traditional diesel-electric systems
Permanent magnet drive motors offer high efficiency, especially at low loads
Spare thrusters are available in our Thruster Support Pool (TSP)
HYDRODYNAMIC FOCUS
Each Azipull is hydrodynamically optimised for the individual customer:
Vessel-specific and customised designs of CP and FP propellers
On request, we can optimise the Azipull unit with the hull to maximise propulsive efficiency using advanced CFD
Vessel-specific hydrodynamic excitation forces are used to design the Azipull system's hull
Customers also have access to our Hydrodynamic and Computational Fluid Dynamics (CFD) resources for
Speed predictions
Computation of the propeller inflow field
Hull-thruster interactions - CFD


L-DRIVE
The Azipull L-drive was introduced to the market already in 2016. It has an L-drive configuration, with the same underwater unit as the standard Azipull but with a vertical shaft permanent magnet (PM) motor integrated into the steering gear. Permanent magnet motors maintain a very high efficiency over a wide speed range, especially important for vessels that operate a lot of time in low-load conditions.We increased mechanical efficiency even further by removing the upper gearbox.
Space requirements in the thruster room are reduced by 50% compared to a traditional diesel-electric Z-drive installation. Since there are no foundations for a separate drive motor or a lengthy alignment of flexible couplings, installation costs and time are also decreased.


Z-DRIVE
The Azipull thruster has a conventional upper gear option. This upper gear can be used with direct-drive gas, diesel, or ammonia engines, as well as horizontally mounted electric motors fed by gas, diesel, or ammonia generators. The upper gears are available with all the hybrid drive options you expect.


CONTROLLABLE AND FIXED PITCH PROPELLERS
The Azipull thruster is available with both controllable and fixed pitch propellers, as well as full feathering. Controllable Pitch Propellers provide up to 30% more bollard pull and DP thrust compared to fixed pitch propellers.
Controllable Pitch Propellers delivers full power with increased resistance from
Rough weather
Towing
Ice load
Full Feathering option
Reduced drag on the inactive Azipull thruster
Multiple propeller installations for greater operational flexibility
Services and support
24/7 Technical support

Our 24/7 technical support team is there to help at any time, day or night, wherever your vessel is.

Conversions, retrofit and refit

We understand the importance of having the right parts, available in the right place, at the right time.

Training

Ensure that your crew is properly and thoroughly trained. This will reduce operational risk, downtime and maximise return on asset investment.