Arctic Thruster
Arctic Thruster
An Arctic Thruster (ARC) unit is a mechanical azimuthing thruster and it is available in both pulling and pushing versions. The ARC thruster family has a robust design which is ideal for artic ice conditions. The first ARC thrusters were delivered in 1992. Polar Class 2 and Icebreaker 7 rules are met up to a power rating of 9MW. The design for the ARC unit has been reviewed and modified according to the latest requirements in 2021.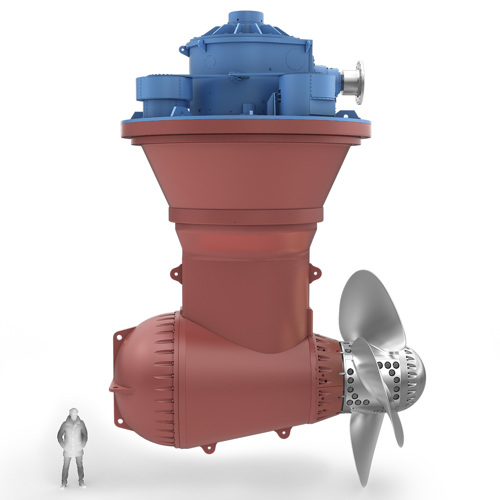 Environmental requirements
KONGSBERG has concentrated on developing zero emission sealing solutions for several years and has built a test rig for steering tube and propeller shaft seals to fulfil increasing environmental requirements such as Vessel General Permit (VGP). Numerous tests of the different sealing options have been successfully performed and the concepts carefully validated.
Based on the acquired knowledge, new ARC thrusters have no oil-to-sea interfaces and outer dynamic seals (propeller shaft and steering tube seals) have a cavity for monitoring seal performance. This can be visually inspected and monitored automatically. Since the oil-to-sea interfaces have been eliminated, mineral oils can be used. The propeller shaft seal has also adaptive seal pressurization and it will run in optimal condition no matter what the vessel draught or speed is. All lips of the seal are kept in an optimal condition and therefore wear is minimized.
The propeller shaft seal is an air seal and the steering tube seal is a void type seal. Both seal types eliminate the possibility of oil discharging into the surrounding waters. The seals function by having two independent sealing systems; one on the side of the seal facing oil, and one on the side of the seal facing water. An air chamber (propeller shaft seal) or a void space (steering tube seal) in between these two seals creates a controlled "buffer zone" where any possible oil or water is collected and conveyed up to thruster room where the fluid can be evacuated to the ship's waste fluid tank.
Main Features:
Pulling or Pushing
With ducted or open propeller
Optimal for heavy ice conditions
Main Benefits:
Fulfils the strictest environmental requirements
Worldwide Service Network
Digital Twin
Internal condition monitoring
Nozzle
The ARC family is available with a ducted (with a nozzle) or an open propeller. The use of a nozzle will provide an increased amount of thrust at low speeds and bollard pull condition. The ducted ARC thruster is chosen when utmost thrust, and effective channel widening is needed.
The ARC unit is available in both pulling and pushing versions
Ice milling using an open pushing propeller is done in the reversed rotation mode by using the propeller trailing edge. This reduces the required torque significantly, as the cutting is done by the sharp edge and the loads will be lower. In forward rotation mode the thruster leg protects the propeller from ice impacts.
ARC units with an open pulling propeller are typically more efficient when used in free running applications. Ice milling with a pulling propeller is done in ahead and astern direction cutting with the propeller leading edge, without the need to change the propeller rotation. When operating astern the unit is rotated through 180 degrees.
KONGSBERG Arctic solutions
Arctic and multi-functional vessels are unique and often have unique features. KONGSBERG has the most comprehensive portfolio of propulsion products and the ability to provide optimal solutions and combinations for artic operations.
For example, when excellent channel widening features are required an ARC unit can be equipped with a nozzle to enhance the thrust and let a traditional shaft line propeller function as the main propulsor. In that way it is possible to manage steering, channel widening and get an efficient forward thrust at the same time.
Condition Monitoring System (CMS) and Remaining Useful Lifetime (RUL)
Digital Twin predicts remaining lifetime of the thruster and it is available for both drive train and frame, where it can also operate as a sensor for the vessel operation condition. Condition monitoring is giving the insight of present condition of the equipment.
Services and support
24/7 Technical support

Our 24/7 technical support team is there to help at any time, day or night, wherever your vessel is.

Conversions, retrofit and refit

We understand the importance of having the right parts, available in the right place, at the right time.

Training

Ensure that your crew is properly and thoroughly trained. This will reduce operational risk, downtime and maximise return on asset investment.