Compact Dynamic Position System, cPos DP
The cPos Dynamic Positioning - DP control system is used to control a vessels position and heading with the use of thrusters. Kongsberg Maritime offers a full range of dynamic positioning control systems that are designed for safe and efficient operation with optimal utilization of power and propulsion equipment. The cPos – DP is the compact-DP system within this range.
The cPos - DP is a single system that is designed to meet requirements for IMO Equipment class 1 and DP related notations from all major classification societies, e.g. DNVGL, ABS and CCS.
Modes and functions
The system offers several modes that enables full vessel control for different types of operations:
Joystick mode: Allows the operator to control the vessel's position and heading manually by a Joystick.
Auto Heading mode: The DP control system will automatically maintain the required vessel heading.
Auto Position mode: The DP system will automatically maintain the required position and heading.
Follow Target mode (optional): Enables the vessel to automatically follow a moving target.
Trackline mode (optional): Makes the vessel follow a specified track line. This mode is designed for marine operations and is not intended for navigation purpose.
Autopilot mode (optional): Enables the vessel to steer automatically on a predefined heading. For the cPos - DP Autopilot to be approved in accordance with EU MED as an automatic heading control device at least one of the operator stations must be located at the conning position.
The cPos - DP user interface is designed for efficient and safe operation of the system. Emphasis has been placed on logical operation, effective presentation of relevant information and user-friendliness. This combined with an extensive alert system and various analysis tools provides the operator with excellent situation awareness.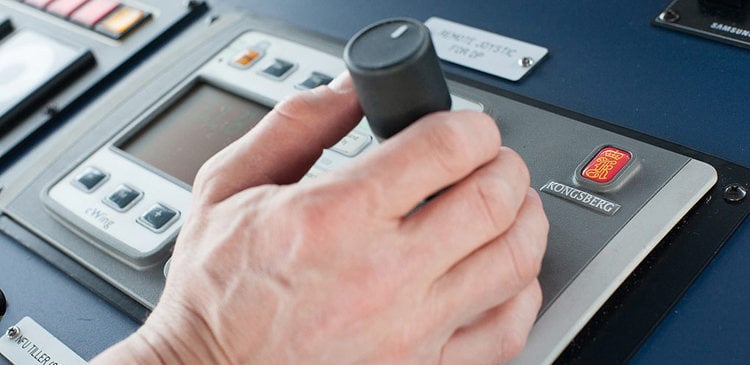 The system contains a mathematical model of the vessel and forces acting upon the vessel. Data from different sensors and position reference systems are processed and used as input to the model. The vessel model provides a robust and fault tolerant reference for guidance and control of the vessel. Smooth control of vessel movements is provided by an advanced and flexible guidance system. The cPos - DP control system offers several control strategies in order to optimize the vessel operation. The Thrust Allocation converts force requirements for position and heading control into command signals to each thruster/propeller/rudder. It is designed to maximize the utilization of available power and propulsion. Limitations in thrust and power dynamics are used by the system to prevent overload of the equipment and always keep control of the resultant thruster force.
Integration with other Kongsberg Maritime systems
The cPos - DP control system can be interfaced to K-Chief, K-Thrust and K-Bridge via a dual Ethernet LAN. Integrating functionality for monitoring and control of a vessel provides a real benefit both technically and economically as integrated solutions leads to less demand for cabling and testing. The control systems delivered by Kongsberg Maritime will also achieve increased performance as the systems will share data and knowledge, making the total system more robust. The cPos - DP control system can be interfaced to the K-IMS system on a separate single Ethernet LAN in order to share data and functionality with the decision support applications.
Services and support
24/7 Technical support

Our 24/7 technical support team is there to help at any time, day or night, wherever your vessel is.

Conversions, retrofit and refit

We understand the importance of having the right parts, available in the right place, at the right time.

Training

Ensure that your crew is properly and thoroughly trained. This will reduce operational risk, downtime and maximise return on asset investment.