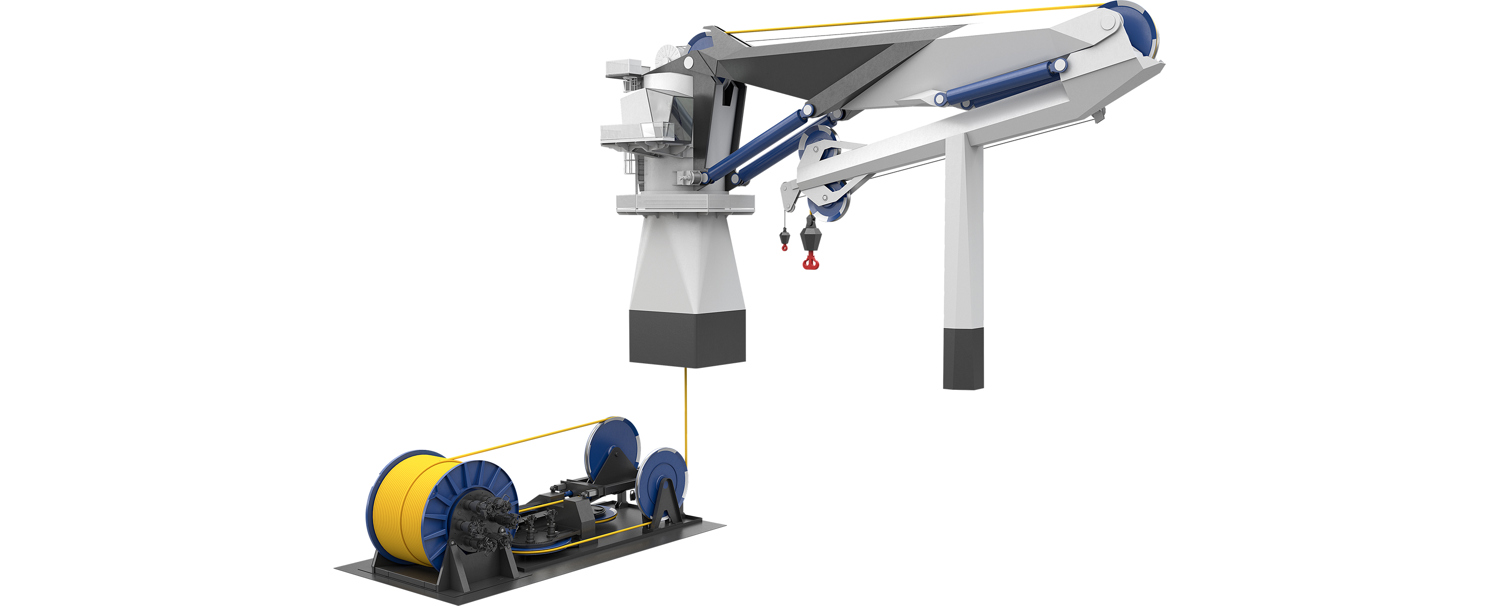 Fibre rope crane (FRC)
Our fibre rope cranes have a range of up to 400t, and are designed for continuous operation in a tough and corrosive offshore environment with focus on efficient and safe load handling.
Working better deeper
We offer a range of offshore cranes for up to 400 tonnes load using field proven fibre rope handling technology. The crane structure has an integrated operator cabin and the fibre rope runs over large diameter sheaves. Below deck is a compact CTCU (cable traction control unit) which forms the crane winch, provides Active Heave-Compensation (AHC) and stores the rope on a reel. This system has a proven track record of more than 10 years. Particular attention has been made to ease of access and maintenance of all main components.
Because the selected rope has neutral buoyancy, the crane can handle loads to its full rated capacity down to 4,500 metres water depth. Cranes using heavy steel wire must begin derating at depths more than about 700m, so by 2,500m a 400t wire crane can only handle the same load as a 250t FRC.
Our rope management system monitors rope condition enabling abraded or damaged sections to be easily repaired by splicing onboard.
Key features
Field proven CTCU technology for fibre rope handling
Smart integration in vessel – below deck
Innovative crane structure – reduced weight
High-end control system
Active heave compensation (AHC)
Constant tension, with auto landing and auto lift-off mode
Pull limit and controlled emergency pay-out function
State-of-the-art operator cabin
High quality – low maintenance, robust and field proven technology
Cost efficient logistics for rope replacement
In-field splicing of rope
Easy inspection of rope
Rope management system – full wear traceability
DNV GL certification
Technical data
SWL
150t
250t
Operating depth (m)
4500
4500
Min outreach (m)
7
11
Max outreach (m)
31
40
Winch speed (m/s)
0-1.5 (all layers)*
0-1.5 (all layers)*
AHC capacity (peak to peak)
4.8m at 10s period
(all layers)*
3.2m at 10s period
(all layers)*
Heavy lift capacity (double fall)
300t at 2250m
500t at 2250m
Aux winch capacity
10t / 20t
10t / 20t
Tugger winch capacity (t)
5
5
Slewing
+/- 200 degrees rotation
+/- 200 degrees rotation
Peak power consumption (kW)
1300
2300
Certification
DNVGL-ST-E407 'Rope-based
deployment & recovery
systems for designed service'
Approximate values provided for guidance only.
Specifications may vary for given applications.
* Varies according to applied load.
Options
Auxiliary winch
Personnel lifting
Tugger winches
Remote access
Anti-collision system
Pedestal
Heavy lift double fall arrangement
Health monitoring
Services and support
24/7 Technical support

Our 24/7 technical support team is there to help at any time, day or night, wherever your vessel is.

Conversions, retrofit and refit

We understand the importance of having the right parts, available in the right place, at the right time.

Training

Ensure that your crew is properly and thoroughly trained. This will reduce operational risk, downtime and maximise return on asset investment.