Dual Drag Link crane (Subsea)
Providing unique lifting performance, the Dual Draglink Crane has increased coverage area on full load, outstanding max load lifting height enabling long and wide arrangements. The crane is designed to handle both steel wire and fibre rope.
We offer a range of offshore cranes up to 400 tonnes load using field proven fibre rope handling technology. The cranes are fully integrated with our deck machinery handling and control systems and offer unparalleled performance as well as reliability and comfort. Through our cable traction control technology using fibre rope, our cranes can operate at virtually unlimited depths. Because the selected rope has neutral buoyancy, the crane can handle loads to its full rated capacity down to its maximum water depth. Cranes using heavy steel wire must begin derating at depths more than about 700m, so by 2,500m a 400t wire crane can only handle the same load as a 250t FRC.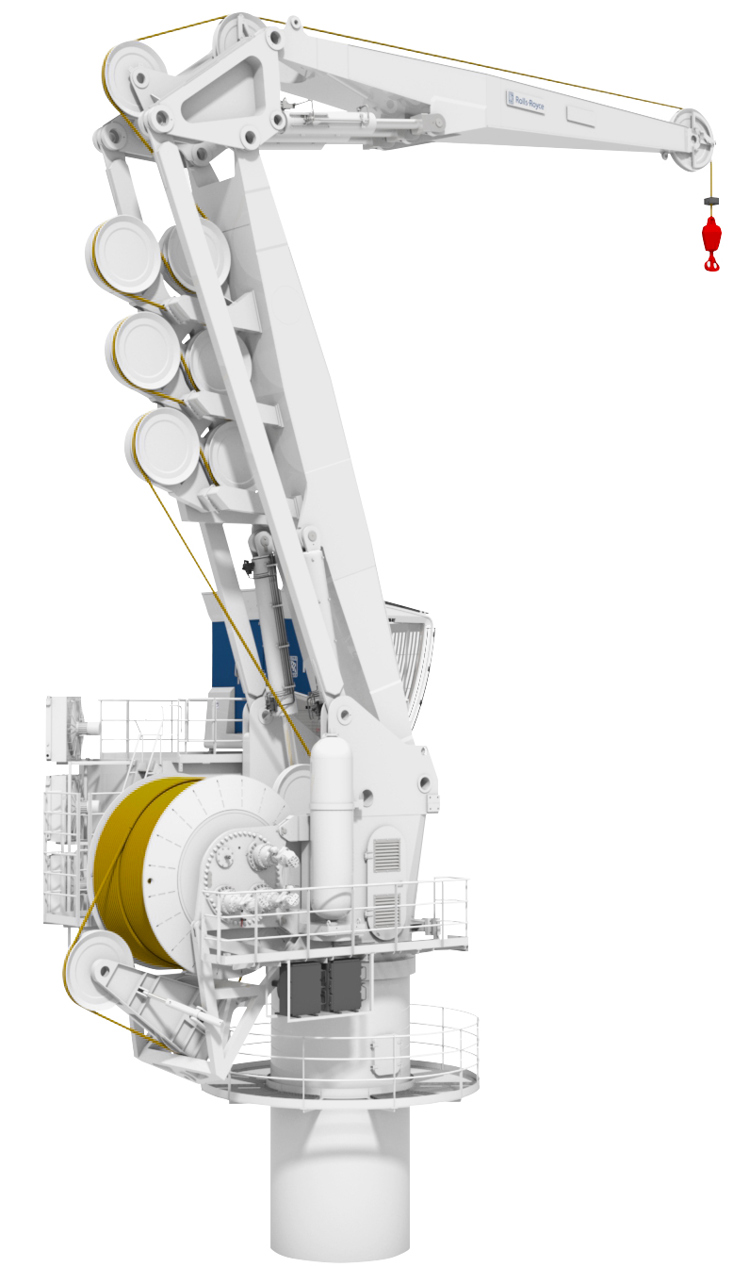 The dual draglink crane can handle both fibre rope and steel wire and has a geometry providing unique lifting performance. The drag link geometry provides a good working height and allows for short radius operations to make use of the deck area near the pedestal. The horizontal boom provides active heave compensation (AHC), significantly increasing the life time of the lifting line compared to when AHC is performed by means of the winch. Our rope management system monitors rope condition enabling abraded or damaged sections to be easily repaired by splicing onboard.
Key features
Work area: 50T at 11.5 m, 23T at 20 m
Active heave compensation
Constant tension on seabed, with auto landing and lift-off
Pull limit and controlled emergency pay-out
Continuous 360 slewing
The crane is certified according to the rules of DNV 2.22 Lifting appliances
Paint steel structure; Acc. STPS 1008/ metalised
Standard color top coat; RAL 9010/ blue white
State-of-the-art operator cabin
Operator cabin can be placed on either side of tower
High quality – low maintenance, robust and field proven technology
High-end control system
Options
Rope monitoring
Auxiliary winch
Personnel lifting
Tugger winches
Slew locks for cradlefree parking
Remote access
Anti-collision system
Pedestal
Heavy lift arrangement
Easy inspection of rope
Services and support
24/7 Technical support

Our 24/7 technical support team is there to help at any time, day or night, wherever your vessel is.

Conversions, retrofit and refit

We understand the importance of having the right parts, available in the right place, at the right time.

Training

Ensure that your crew is properly and thoroughly trained. This will reduce operational risk, downtime and maximise return on asset investment.