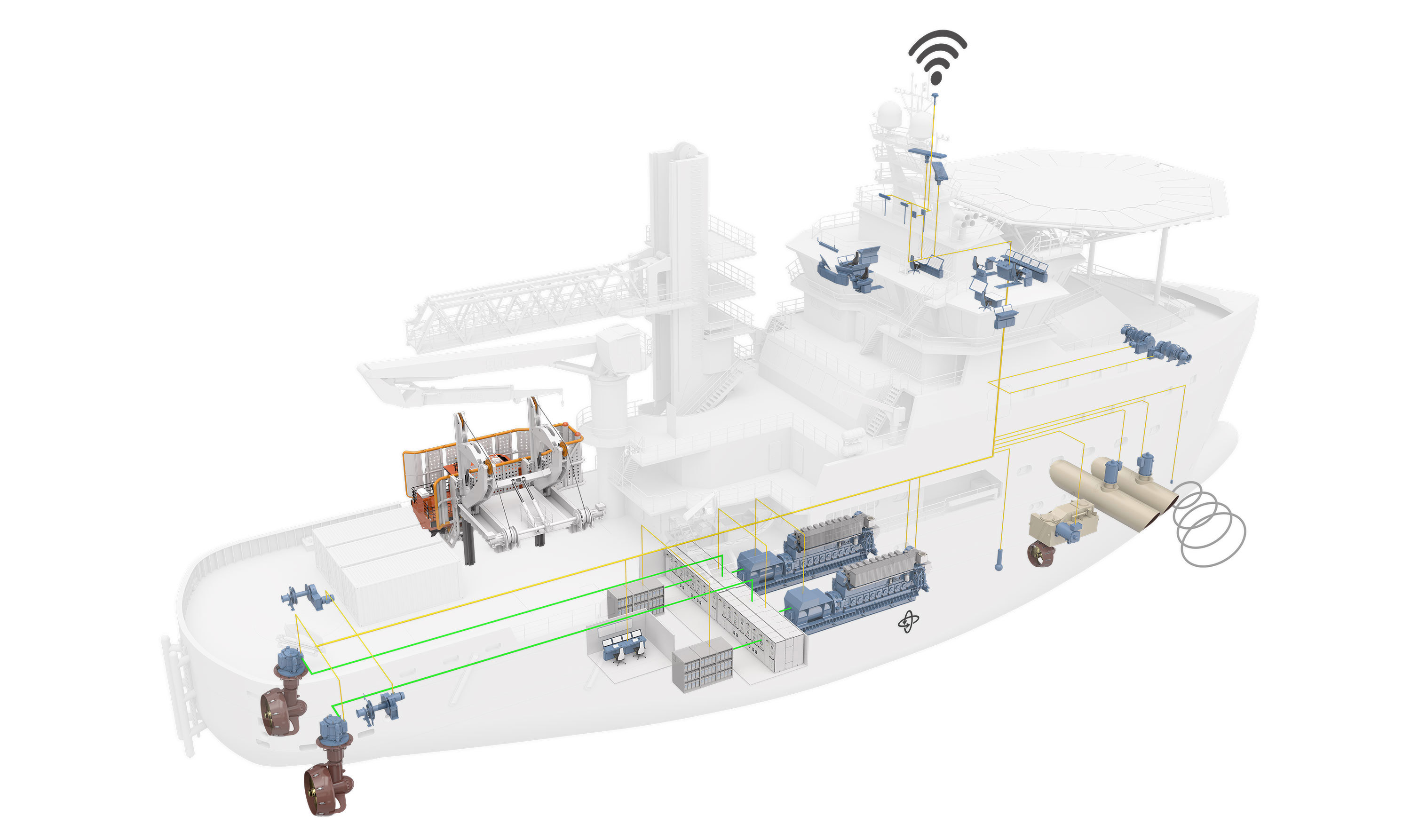 Wind Farm Support Vessel
Minimise cost. Optimise energy. Maximise performance
KONGSBERG's unification of state-of-the-art control and positioning technology with energy-saving power, propulsion and handling equipment creates a unique platform for safe, efficient and environmentally-friendly wind turbine foundation installation projects. Deep integration from the design-and-build stage of your Wind Construction Vessel introduces significant CAPEX savings, while joined-up working on board maximises performance.
Key figures
Decrease in cables and installation work at yard compared with traditional systems.
Energy savings with up to 20% based on integrated hybrid energy system.
20 – 30% more efficient operation compared to moored or jacked-up vessels.
Government subsidies are even tougher to secure as the offshore wind market matures, challenging maritime engineering and energy companies to further optimise efficiency and performance. KONGSBERG technology has the power to ensure viability and sustainability of wind turbine installation and maintenance, for instance, by performing offshore wind turbine monopile installation using DP (Dynamic Positioning) eliminating the need for mooring or jack-up vessels.
A new methodology
But it's not as simple as installing a sophisticated KONGSBERG dynamic positioning system. This step-change in installation methodology requires a new type of Motion Compensated Pile Gripper, which KONGSBERG has developed to work with its DP systems without any interference. The solution is an active control component and pile gripper guidance system integrated between the DP and pile gripper local servo system. It performs motion compensation based on measured vessel motion to keep the pile upright at all times for safe and robust operations.
Integrated lifecycle solutions
KONGSBERG solutions for floating offshore wind turbine foundation operations deliver significant improvements to the performance of a construction vessel, increasing efficiency, lowering costs and reducing the environmental footprint as well as securing safety. Further benefits comes from reduced operational manpower needs, and faster installation, commissioning and testing. As a harmonised and interconnected platform, our state-of-the-art propulsion units, engines, deck machinery and control and safety systems unlock savings throughout the lifecycle of any Wind Construction Vessel.
Ship designers can tailor their solutions for specific operational requirements together with KONGSBERG. Seamless integration can free up space and reduce weight, allowing for smarter, more efficient drilling unit designs.
The shipyard can enjoy a lower risk profile for the project, save engineering hours with significantly reduced cabling and installation work, as well as reduce hundreds of hours spent on interface meetings in the early stages.
The owner and operators can reduce OPEX by establishing more efficient drilling operations. A proven life cycle management system for the delivered solution can, in the long run, lower costs and increase the uptime of your asset.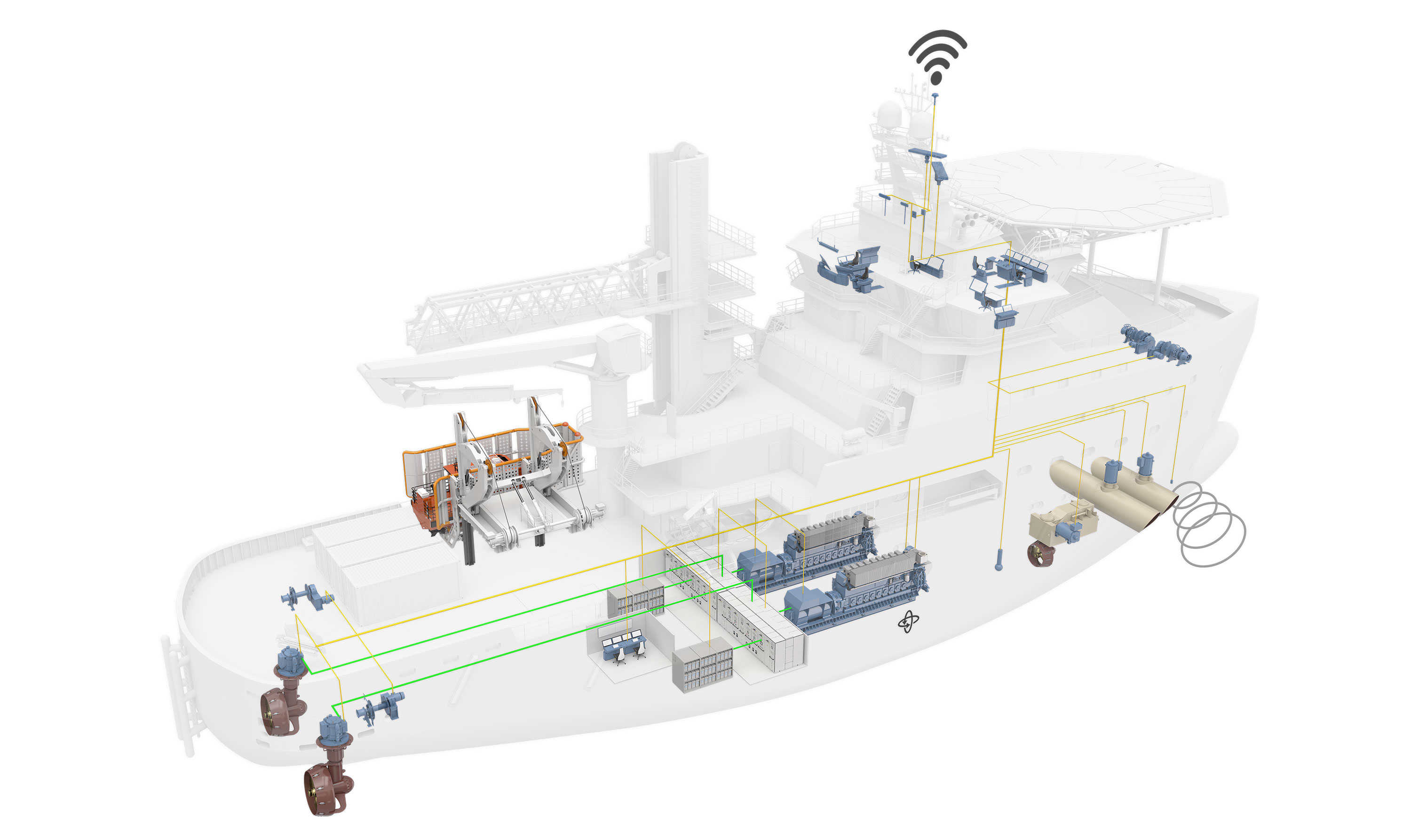 Navigating a route to a sustainable future today, KONGSBERG delivers the Full Picture – diverse systems on one platform, with limitless potential. By uniting operations, energy and handling solutions, we deliver dynamic integrated vessel concepts that unlock hidden value throughout the operational, economic and environmental spectrum.
The result is greater efficiency, reduced costs and more sustainability, achieved through intelligent asset management and a continual cycle of learning and improvement. With the Full Picture on board, data is shared, understanding is enhanced, and the door is opened for improved real-time and long-term decision making, both at sea and on land.
Welcome to the Full Picture. Welcome to the future.